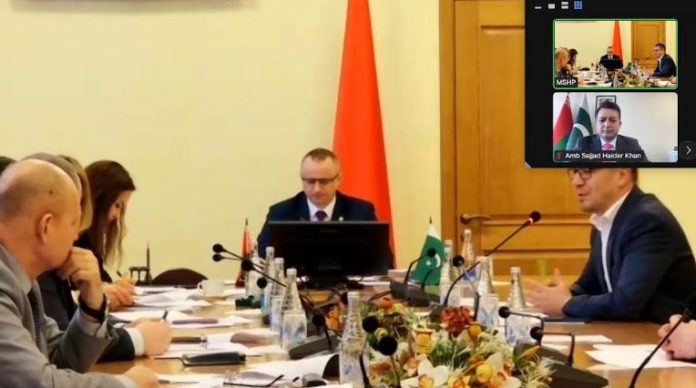 MINSK, MAR 7: /DNA/ – The 6th session of Pakistan-Belarus Joint Working Group on Agriculture Cooperation was held virtually today. Pakistan side was led by the Minister for Food Security and Research of Pakistan Chaudhary Tariq Bashir Cheema, accompanied by Zafar Hasan, Federal Secretary for Food Security and Research and other members. The Ambassador of Pakistan to Belarus Sajjad Haider Khan also attended the session. Mr. Shagoiko Vadim, Deputy Minister of Agriculture and Food of the Republic of Belarus led the Belarusian side.
The session revolved around the discussions on enhancing cooperation in the field of agriculture, exploring joint venture opportunities, exchanging delegations, participating in fairs, and research collaborations. Both sides acknowledged the importance of agriculture as a key sector for economic growth and development and exchanged ideas on promoting sustainable agriculture practices and boosting productivity.
The officials from both countries expressed their willingness to work towards strengthening agricultural ties between Pakistan and Belarus, which will benefit the farmers, consumers, and businesses of both countries. This session marks a significant step towards achieving this goal, and both sides look forward to more collaborations in the future.