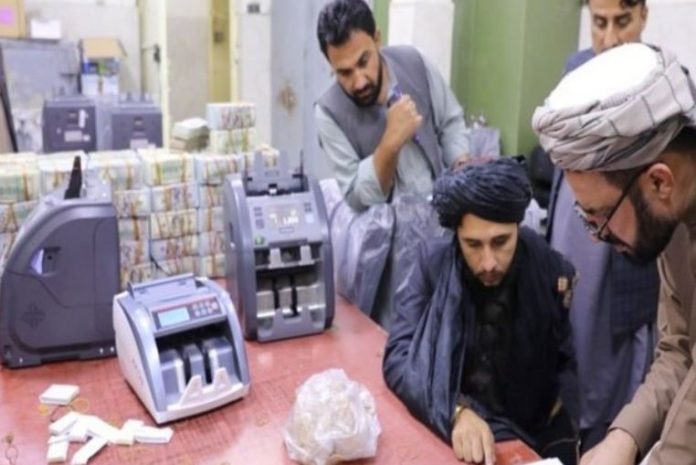 Kabul, Sept 12: The Central Bank of Afghanistan has initiated the promotion of the Afghani currency in the country's southwestern region since last week and is likely to ban the use of Pakistani currency soon, reported Khaama Press. The Central Bank has further instructed the residents of the country's southwestern provinces to cease their commercial transactions using the Pakistani currency and have been given a deadline.
The residents have been given two and a half months to conduct their commercial transactions using the Afghani currency and are further advised to avoid dealing with foreign currencies.
Moreover, the announcement specifically warned the residents of Kandahar, Uruzgan, Helmand, Zabul and Dykundi provinces and asked them to make trade transactions through national currency only, reported Khaama Press.
According to the Central Bank's announcement, after the specified date, all transactions with other currencies will be termed illegal, and legal action will be taken against violators.
Meanwhile, the country has been dealing with protests over the closure of the Torkham crossing as the clashes continued for the fifth continuous day.
According to the protesters, Pakistan has regularly closed the Torkham border under various pretexts during the fruit and vegetable season. They urged Afghan and Pakistani officials to resolve their political differences through diplomatic channels, reported TOLO News.
"When the season of fruits and vegetables arrives, you (Pakistan) close the path, make problems. You attack our checkpoints. Why?" said Wahidullah, a trader, according to TOLOnews.
This comes as the Afghanistan-Pakistan Joint Chamber of Commerce said that the closure of Torkham has cost traders on both sides of the border about USD 1 million.
The border was closed after clashes were triggered by the construction of a new post along the border.
The busy Torkham border crossing was closed on Wednesday after Pakistani and Afghan Taliban forces started firing at each other, according to local officials.