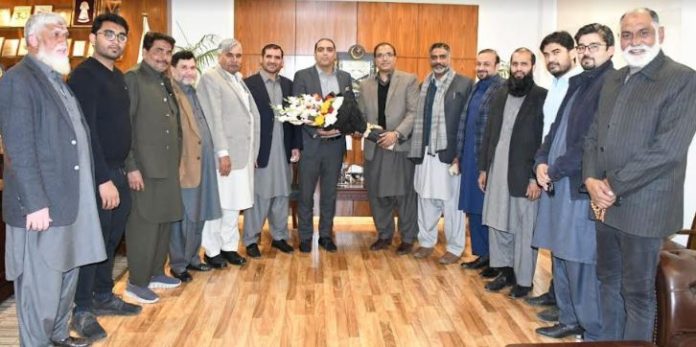 Islamabad: /DNA/ – Agro Trade Promotion Committee of Islamabad Chamber of Commerce and Industry (ICCI) during its meeting at Chamber House has expressed serious concerns over the CDA plan to construct a slaughterhouse in I-11/4, Islamabad at an area of over 5-acre land as the fruit and vegetable businesses need a hygienic environment while the existence of an abattoir near Sabzi Mandi would create unhygienic conditions and would have a negative impact on the health of fruit and vegetable consumers as well. Therefore, they strongly opposed this move and called upon the CDA to cancel this project immediately in the larger interest of the citizens.
Addressing the meeting, Faad Waheed, Acting President, Islamabad Chamber of Commerce and Industry said that fruits and vegetables businesses need a neat and clean environment, but the construction of a slaughterhouse in the vicinity of Sabzi Mandi in Islamabad would be against the interest of these businesses as it would create smell in the area and affect the environment. He said that the concerns of the business community of Sabzi Mandi are genuine and stressed that the CDA should reconsider its plan of constructing an abattoir near the largest fruits and vegetables market of the twin cities and move this facility out of the city to save the businesses and citizens from its unhealthy consequences.
Engr. Muhammad Azhar ul Islam Zafar, Vice President ICCI said that according to the SOP of Food and Agriculture Organization of UN, the slaughterhouse should be away from residential areas and emphasized that CDA should follow the international practice for setting up this facility away from the city.
Tahir Ayub, Convener, Agro Trade Promotion Committee of ICCI said that the I-11/4 sector is already facing the issue of water shortage while an abundant supply of potable water and adequate facilities for treatment and disposal are required for a slaughterhouse, which is not possible in the said area. He urged that CDA should immediately withdraw this project to save the Sabzi Mandi businesses from its harmful consequences. He further said that Sabzi Mandi is also facing double taxation from the Market Committee and CDA, which is unjustified. He said that after the establishment of the Market Committee, CDA is not doing any development works in Sabzi Mandi due to which the condition of its infrastructure and other services has deteriorated. He stressed that this issue should be resolved in consultation with the stakeholders to save businesses from further troubles.
Babu Muhammad Aleem, Ch. Muhammad Arshad, Arsalan Jawaid, Ch. Safeer Hussain, Rizwan Farooq, Shakeel Ahmed, Imtiaz Ahmed, Abdullah Chaudhry, Muhammad Shabbir, Sheikh Salman and Muhammad Sohail Chaudhry and other members of Committee also strongly opposed the construction of slaughterhouse near Sabzi Mandi and urged that CDA should cancel this project forthwith.