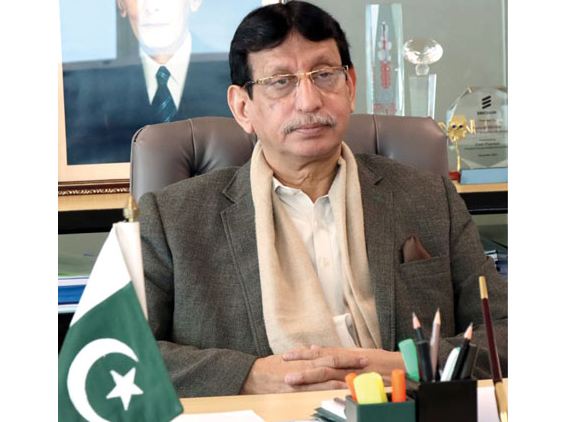 ISLAMABAD, Jul 18 (DNA): In a bid to enhance collaboration in the digital realm, Federal Minister for Information Technology and Telecommunication, Syed Amin ul Haque, held a productive meeting with the Azerbaijani Minister for Digital Development and Transport, Rashad Nabiyev.
During the meeting, in-depth discussions were held on digital transformation, software development, and IT revenue-related matters, with a focus on fostering stronger ties between the IT and telecom sectors of both countries.
Amin ul Haque emphasized Pakistan's deep appreciation for its relations with Azerbaijan, describing them as robust and fraternal.
He expressed a keen interest in further strengthening bilateral ties, particularly in the technology sector, and lauded Azerbaijan's commitment to the development of the digital landscape.
The Azerbaijani Minister, Rashad Nabiyev, expressed his country's desire to bolster mutual cooperation, especially in the domain of IT and software development.
He also commended Pakistan's ambitious Digital Pakistan Vision, recognizing the nation's efforts towards digital transformation and the IT industry's significant role in this endeavour.
Both sides expressed their commitment to jointly working towards the advancement of the IT and telecom sectors. They agreed that establishing a joint working group would be essential to strengthen the IT and telecom relations between Pakistan and Azerbaijan.
Azerbaijan's delegation, led by Minister Rashad Nabiyev, also had the opportunity to receive a detailed briefing on Pakistan's digital landscape and initiatives, presented by Member IT Syed Junaid Imam.
The meeting was attended by Secretary IT, Navid Ahmed Sheikh, Member IT, Syed Junaid Imam, Member Telecom, Muhammad Omar Malik, Member International Coordination, Ajmal Awan, Member Legal, Babar Sahil, CEO of Pakistan Software Export Board, Ali Reza, and COO Ignite, Asim Shahryar Husain.
Later, the Azerbaijani delegation also held meetings with CEOs of various IT companies.