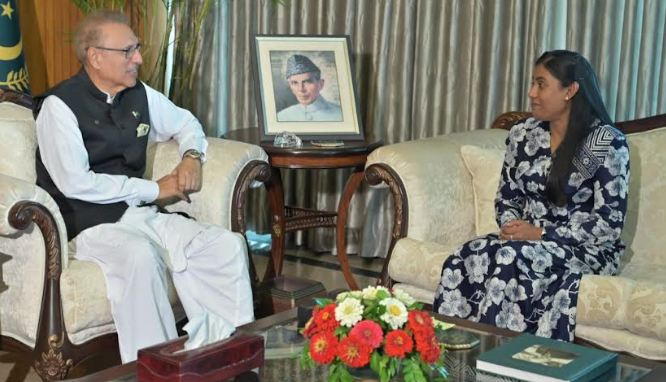 He expressed these views while talking to the outgoing High Commissioner of Maldives to Pakistan Farzana Zahir
Mahnoor Ansar
ISLAMABAD, JUL 18 /DNA/ – President Arif Alvi on Tuesday underlined the need for increasing trade and economic cooperation with Maldives for the mutual benefits of two countries.
He said that there was a great potential to expand bilateral trade and export Pakistani products to Maldives, particularly textiles, fabrics, rice, cement and pharmaceutical.
He expressed these views while talking to the outgoing High Commissioner of Maldives to Pakistan Farzana Zahir who called on him, at Aiwan-e-Sadr, President Secretariat Press Wing said in a press release.
Talking to the outgoing High Commissioner, the president highlighted that Pakistan attached great importance to its relations with Maldives in bilateral context and within the framework of the South Asian Association for Regional Cooperation (SAARC), Organization of Islamic Cooperation (OIC), the United Nations and Commonwealth.
He said that both countries had commonality of views on important regional and global issues, particularly the threat posed by global warming.
He underlined the need for closer cooperation among countries of the world to counter the severity of natural disasters as well as climate change that had endangered both developed and developing countries alike.
President Alvi further said that both countries needed to enhance cooperation in the area of tourism and learn from each other's experience.
He also highlighted that the isolation and persecution of the Muslims by India was a matter of grave concern and the international community needed to take notice of the brutalities being committed by the Indian security forces against the Muslims, particularly in Indian Illegally Occupied Jammu & Kashmir (IIOJK).
He also called for revitalization of the SAARC enabling it to achieve its objectives.
Referring to the rising wave of Islamophobia, the president emphasized that the Islamic countries should work together to counter the Islamophobia.
The president also congratulated the outgoing high commissioner on the successful completion of her tenure and appreciated her efforts for improving Pakistan-Maldives ties.