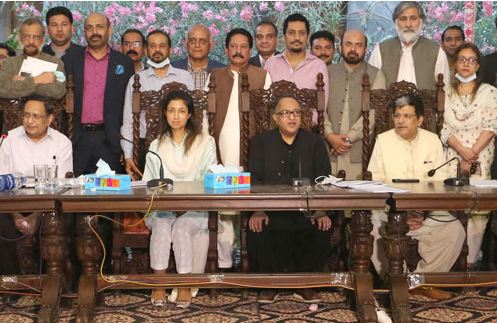 DNA
ISLAMABAD, SEPT 11 – The Association of Pakistan Newspapers Editors (APNS) held a crucial meeting on September 9, 2023, in Islamabad, chaired by APNS President Mrs. Nazafreen Saigol Lakhani. During the meeting, various pressing issues concerning the print media industry were discussed.
One of the key matters raised was the long-pending increase in government advertisement rates for newspapers. Sarmad Ali, Secretary General of APNS, informed the Information Minister, Murtaza Solangi, that the previous government had announced a 35% increase in advertisement rates, which remained unnotified due to the early dissolution of the government. He also highlighted that the Ministry of Information's summary for this increase is awaiting approval by the Cabinet Division and requested the Minister to expedite its presentation at the next Federal Cabinet meeting.
In response, Minister Solangi outlined the caretaker government's commitment to safeguarding media interests and upholding press freedom. He assured that the Ministry of Information would prioritize the notification of the rate increase as soon as possible.
Furthermore, the APNS Executive Committee expressed serious concerns about outstanding dues from government advertisements. In Punjab and Sindh, payments for SPL (Special Publicity) and non-budgeted advertisements had not been settled, causing a liquidity crisis for newspapers. Additionally, the Department of Public Relations in KP province had accumulated one billion rupees in unpaid dues to print media over the past two years, despite reconciliations.
To address these issues, the Executive Committee decided that a delegation led by APNS President Mrs. Nazafreen Saigol Lakhani would meet with the respective governments to expedite payment release.
The meeting also discussed the adverse impact of the Election Commission's ban on developmental advertisements, which significantly reduced the quantum of advertisements in newspapers. The Executive Committee resolved to request the Election Commission to reconsider and lift this ban.
Moreover, the Committee adopted the Advertising Committee's report and granted provisional accreditation to advertising agencies M/s. Brain Tree Advertising (Lahore), M/s. Mesh Media (Pvt.) Ltd. (Lahore), and M/s. Mindread Advertising (Pvt.) Ltd. (Karachi).
The Executive Committee approved the restoration of membership for Daily Shamal (Karachi) and Monthly Sathee (Karachi) and agreed to the restructuring of M/s. Kenad (Pvt.) Ltd.
The meeting was attended by several prominent members of the APNS, including President Nazafreen Saigol Lakhani, Senior Vice President Imtinan Shahid, Secretary General Sarmad Ali, and various representatives from leading newspapers across Pakistan.
Special observers Imran Ather (Daily Jurat, Lahore) and Rahman Athar (Daily The Business, Lahore) were also present at the meeting. DNA