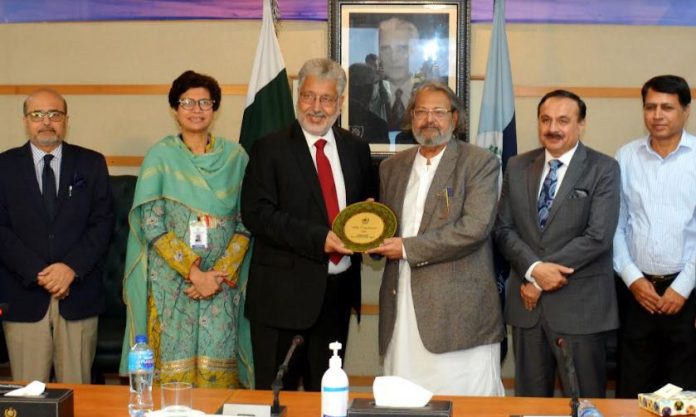 DNA
Islamabad, Sept 11: Caretaker Federal Minister for Federal Education and Professional Training Mr. Madad Ali Sindhi visited the Higher Education Commission (HEC) Secretariat on Monday. The Minister was welcomed by Chairman HEC Dr. Mukhtar Ahmed and the senior management.
Dr. Mukhtar Ahmed gave a comprehensive presentation on overall functions of HEC, its key initiatives, and notable achievements since its inception in 2002.
In his address, the Federal Minister appreciated the efforts and dedication of HEC for growth of higher education in Pakistan. He emphasized the critical importance of nationwide educational reforms, starting from the school level, with a special emphasis on the public sector.
The Minister highlighted the societal need for solution-oriented research on areas of critical importance to the people of Pakistan, such as disaster management, health and wellbeing and water & sanitation. He also expressed his optimism that the higher education institutions would reform and lead the renaissance of growth and development in the country.
Earlier, in his presentation, the Chairman HEC shed light on the remarkable evolution of universities in Pakistan over the past two decades. He noted that the number of universities as well as the quality of research has witnessed a substantial increase in the last two decades. He highlighted a substantial transformation in the realm of research with the current year boasting 28,967 publications in Impact Factor Journals. He said that owing to these factors and many other initiatives a number of Pakistani universities are now featured in World and Asian rankings.
Dr. Mukhtar Ahmed also highlighted HEC's efforts for improvement in gender parity in higher education institutions, growth in PhD faculty and establishment of Centres of Excellence in emerging disciplines such as Nanoscience and Nanotechnology, Quantum Computing, etc.
The Chairman underscored the revamping of research promotion and commercialisation initiatives and briefed the Minister about establishment of Office of Research, Innovation and Commercialisation (ORIC) and Business Incubation Centre (BIC) in universities across the country as well as launch of Research for Innovation (RFI) portal for better coordination among all the stakeholders. He also underlined HEC's quality assurance programmes, accreditation activities as well as national and international scholarship initiatives. Dr. Ahmed also shed light on various other HEC policies, groundbreaking special projects, and a forward-looking roadmap that charts the commission's course into the future.