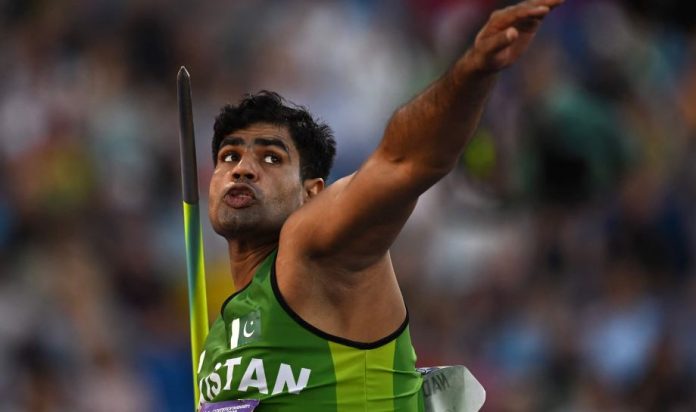 Same time last year, javelin thrower Arshad Nadeem had lost out on a medal at the Olympics but won hearts. This year, he has managed to win both at the Commonwealth Games (CWG), ending a 56-year medal drought in track and field for the country.
Arshad was one of Pakistan's leading hopes for a medal going into the Games, but without a coach and with a heavily taped throwing elbow due to an injury, odds were against him.
However, the 25-year-old from Mian Channu was resilient and resolute in his aim to bring his country glory.
On Sunday evening when he improved on his personal-best throw of 86.38metres thrice, Arshad's first effort was 86.61m. He was setting the distance to beat for the rest of the field and it was a question of whether it would be enough for gold.
A foul on his second attempt didn't matter as Arshad imp­ro­ved his personal best again with a throw of exactly 88m.
Each effort, however, ended with Arshad grimacing in pain and immediately reaching out to feel his right elbow — which he's been nursing after last year's Tokyo Olympics where he had finished fifth — but in the lead halfway through the final, he could still afford a smile.
Arshad's fourth throw landed just beyond the 85-metre mark but with two rounds remaining. He was still in the lead.
It was in the penultimate round when Arshad finally trailed — Peters launching the javelin to 88.64m. Peters celebrated as if it was enough for gold but his joy was short-lived. This was Arshad's gold to win and he immediately threw over the sport's 'holy grail' mark of 90m.
Doing so, he became only the second Asian to cross that mark after Taiwan's Chao-Tsun Cheng (91.36m). He also broke the Games record of 88.75m by South African Marius Corbett that stood since 1998.
Peters, who threw over 90 metres to win at the world championship in Oregon, tried with his final throw to overhaul Arshad but it wasn't to be. He ended with silver with Kenya's Yego picking up bronze with a best throw of 85.70m.
Arshad, who delivered gold in a record-smashing style after a monster 90.18-metre throw, sank to his knees and prostrated after coming at the top.
That brought Pakistan's first athletics medal at the Games since 1966 and a first javelin gold for the country, bettering Mohammad Nawaz's silver at the inaugural edition of the quadrennial multi-sport spectacle in 1954 and Jalal Khan's second-placed finish in 1958.
It was Pakistan's second gold in Birmingham and the first was also won with a Games record when Nooh Dasagir Butt triumphed in the +105kg weightlifting competition.