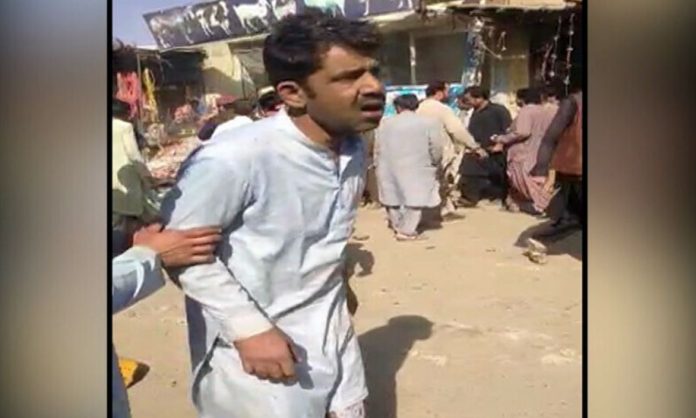 At least four people were killed and 14 wounded in an explosion inside the Rakhni market in Balochistan's Barkhan on Sunday morning, police and health officials said.
Barkhan District Health Officer Dr Abdul Hameed confirmed the death toll to Dawn.com, adding that the injured persons had been moved to the Rakhni Hospital.
According to Barkhan Deputy Commissioner Abdullah Khoso, the blast occurred when an improvised explosive device (IED), planted on a motorcycle, exploded.
Khoso said the police have arrived at the site and cordoned it off. "Teams have begun collecting evidence from the site," he added.
Unverified videos making the rounds on social media show volunteers carrying bloodied victims away as a crowd gathers at the purported site of the blast. Mangled motorcycles and charred vegetables can be seen strewn about on the road.
There was no claim of responsibility as yet.
The blast comes on the heels of attacks in KP and areas bordering Afghanistan. Since the talks with the outlawed Tehreek-i-Taliban Pakistan (TTP) broke down in November last year, the militant group has intensified its attacks while insurgents in Balochistan have also stepped up their violent activities and formalised a nexus with it.
Condemnations
Balochistan Chief Minister Mir Abdul Qudoos Bizenjo has condemned the blast and directed the authorities to take all possible steps to arrest the culprits. He has also summoned a report on the incident from the police.
"Those who shed the blood of innocent people are enemies of humanity," the minister said.
"Terrorists are creating uncertainty to achieve their evil goals. But we won't allow anti-state elements to succeed," he stated, promising that the government would adopt an effective counter-terrorism strategy.
Bizenjo also directed officials to provide the best medical care to injured people and prayed for the high ranks of the deceased.
Also condemning the incident, Interior Minister Rana Sanaullah called the terrorists "enemies of peace and development in Balochistan" and said they would "never succeed in their wicked aims".
He prayed for the deceased's high ranks and for their families' well-being.
President Arif Alvi also condemned the blast and stressed the need to "speed up efforts for the complete elimination of terrorists".
"Terrorists are the enemy of peace in Balochistan and progress," he was quoted as saying. "Terrorists will never be successful in their nefarious plans."
Prime Minister Shehbaz Sharif condemned the incident as well and prayed for the speedy recovery of the injured, quoted the premier's press release as saying.
He said a report has been summoned from the chief minister and inspector general of police. Shehbaz added that "terrorists could not escape the punishment and those shedding blood would be made an example".
The premier has also asked for the best medical treatment to be provided to the injured.
In a statement issued by the PPP Media Cell, Foreign Minister Bilawal Bhutto Zardari also expressed his "heartfelt condolences and solidarity" with the families of those killed in the terror attack.
"Pakistan is determined to root out those who target innocent citizens," he said. "Terrorists have no religion or nation; they are brutal beasts in human form."