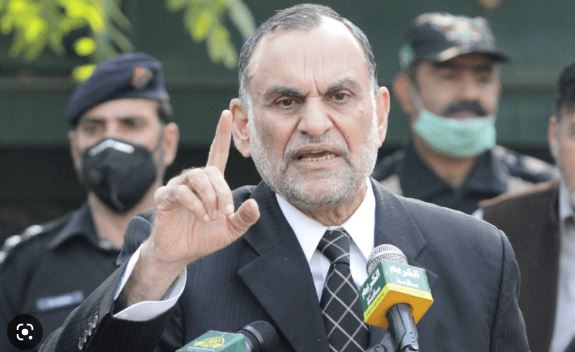 ISLAMABAD, NOV 11 (DNA) — Senators belonging to Pakistan Tehreek-e-Insaf (PTI) on Friday held a sit-in outside the parliament building to condemn arrest of senior leader senator Azam Swati.
Swati was arrested last month by the Federal Investigation Agency after he tweeted about the army chief. He alter alleged that he was beaten by the FIA officials in his house and the car in which he was taken away.
Earlier the PTI senators marched the from Parliament house to the Supreme Court (SC) in protest against the torture on several parliamentarians. They demanded justice for Azam Swati, allowing him to file a case.
The PTI senators first held a token sit-in as a protest outside the parliament house on Friday. After that they marched towards the SC building. They also demanded registration of case about the attack on Imran Khan in Wazirabad on Nov. 3.
The party says the police have not yet registered Imran Khan's FIR about attack on him. He wants to nominate Prime Minister Shehbaz Sharif, Interior Minister Rana Sanaullah, and a senior intelligence officer for making a plan to kill him. PTI has already rejected an FIR registered by a police official at Wazirabad. The Supreme Court had ordered registration of the FIA. =DNA