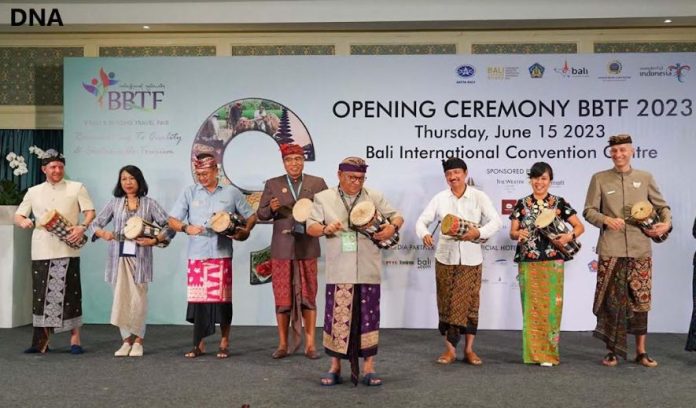 A media and tour operators' delegation from Pakistan also took part in the Fair
DNA
BALI: The Bali Beyond Travel Fair was formally opened on Thursday. The officials from the Indonesia Ministry of Foreign Affairs, Deputy Foreign Minister of Tourism Infrastructure, Deputy Minister for Marketing Ni Made Ayu Marthini, Deputy Governor of Bali and other prominent figures participated in the Travel Fair.
A media and tour operators delegation from Pakistan also took part in the Fair.
BBTF is an annual event with the intention to establish a benchmark for travel & tourism events and destinations in Indonesia. Supported by the Ministry of Tourism of Indonesia, BBTF held a B2B events and aims to advance the tourism industry through business session and direct promotion of the best practices in MICE and Leisure Management.
Together with exhibitors and buyers from numerous countries around the world, BBTF facilitates Pre-Scheduled Appointments (PSA) and business sessions for buyers and sellers to negotiate on their long-term leisure and corporate travel needs. Corporations, travel agents, hotel & resort chains, cruise operators, convention planners, venue operators and travel buyers can leverage the two and half days of business-to-business sessions to enhance their respective brands in the Indonesian and Asia Pacific markets.
In addition to the B2B sessions, the travel fair will have an extensive program of activities for all delegates. From the fantastic networking events, to the inspirational knowledge program, the business of meetings has never been so rewarding. Bali was chosen as the venue because it is the gateway to Indonesia's Archipelago for global travelers and the island contributes up to 40% of all visitors to the nation each year.
This annual event is led by passionate committees and supported by members of ASITA, public sectors and Government to promote and facilitate the tourism business and development. Member of ASITA BALI consists of 420 tours and travel bureaus (BPW) and 13 associate members spread all over Bali. ASITA BALI is a member of Stakeholder of Indonesian Tourism Industry Association (GIPI) Bali or better known as Bali Tourism Board
BALI & BEYOND TRAVEL FAIR , is recognized as Indonesia's leading international travel fair that focuses on promoting tourism in Indonesia to the world by bringing together buyers and sellers in a single B2B forum. This year, the nineth BBTF was held in Bali, Indonesia's gateway of tourism to the world, taking the date from 14 – 17 June 2023 at the Bali International Convention Center (BICC), ITDC, Nusa Dua, Bali.