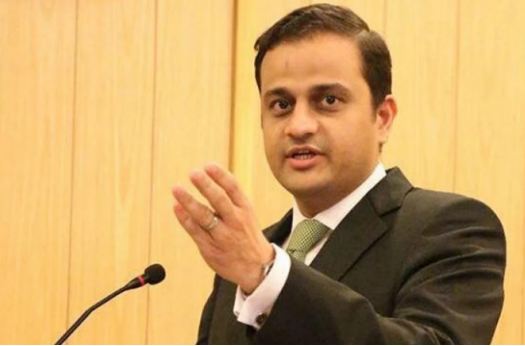 KARACHI, JUN 15 (DNA) — Pakistan People's Party's (PPP) Barrister Murtaza Wahab was elected as mayor of Karachi by securing 173 votes on Thursday, defeating his rival with a margin of 12 votes. According to unofficial result, his rival Jamaat-e-Islami's Hafiz Naeemur Rehman could bag 161 votes.
PPP's Salman Abdullah Murad also defeated JI's Saifur Rehman in election for Karachi's deputy mayor by grabbing 173 votes. As the atmosphere was peaceful inside the City Council, outside the PPP and JI supporters clashed using batons and bricks.
Earlier, the voting to elect mayor and deputy mayor was held at the Karachi Arts Council through show of hands. In total, 333 member voters participated in the polling in the City Council auditorium, 173 out of them belonged to PPP, while 160 were from JI and PTI. As many as 31 members were absent.
The clash between the city titans did not go without incident as the rival supporters clashed outside the City Council. First, there were scuffles between the workers which later developed into pelting stones at each other, turning the area into a battleground despite the heavy presence of police there.
The clash left behind many workers injured on both sides. The window glasses of many vehicles were also broken during the stone pelting. The scuffles were triggered when the rival activists were not allowed to enter the City Council amid intense sloganeering against each other.
The authorities then locked the gates of the City Council to prevent the entry of the workers. Seeing the situation getting out of hand, Rangers and police personnel swung into action and used lathi-charge to disperse the unruly workers. They also made several arrests on the spot.
The Rangers called in further reinforcements backed by a water cannon to deal with the situation. After losing the election for Karachi mayor and deputy mayor, the JI wrote a letter to chief election commissioner accusing the Sindh government of abducting 29 PTI members in order to stop them from taking part in the voting.
Through the letter, a JI spokesman urged the Election Commission of Pakistan to annul the voting process held to elect Karachi mayor and deputy mayor by declaring it a "fraud". The party urged the ECP to issue new schedule for the election of Karachi mayor and deputy mayor.
The JI spokesman said it is the primary duty of the ECP to ensure fair and transparent election but the Commission has miserably failed to do its job. PTI's Firdous Shamim Naqvi who was present in the City Council did not opt to vote for the mayor and deputy mayor. He said he wanted to keep his seat in the Sindh Assembly.
PPP Chairman Bilawal Bhutto Zardari extended congratulations to the newly-elected Jiyala mayor and deputy mayor of Karachi. Meanwhile, over 30 UC chairmen of the PTI have formed a forward bloc, under the leadership of Asad Aman, ahead of election for the seat of Karachi mayor. The group has decided not to vote for JI's Hafiz Naeem. — DNA