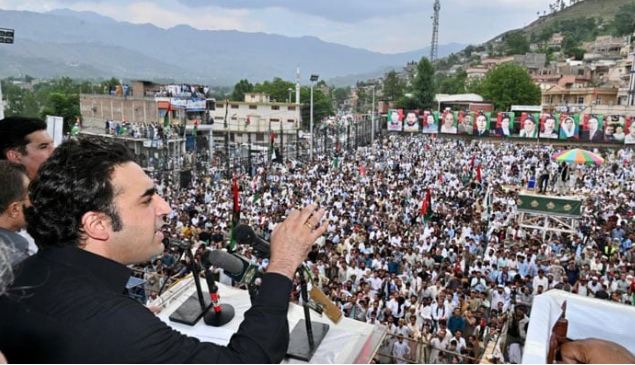 Fissures appear to be growing between key ruling coalition partners — Pakistan Peoples Party (PPP) and Pakistan Muslim League Nawaz (PML-N) — over 2023-24 federal budget with Foreign Minister Bilawal Bhutto Zardari publicly criticising the government for "not allocating" funds for flood victims.
Addressing a public gathering in Swat on Saturday, Bilawal — the PPP chairman — said no funds were allocated for the rehabilitation of 2022 flood victims in the 2023-24 federal budget presented by Finance Minister Ishaq Dar last week.
Unprecedented flash floods caused by historic monsoon rains killed at least 1,000 people and affected more than 33 million mainly in Sindh, Khyber Pakhtunkhwa and Balochistan in 2022.
"Peoples Party sent its high-level delegation to the prime minister yesterday to [raise concerns] that PPP has very little input in the budget," he added.
Bilawal said the federal government had made promises to the provincial governments last year that it would help the flood victims.
"I was surprised to know that no funds were allocated for any province for flood reconstruction," he added.
Bilawal said he had directed his party members to apprise the prime minister of PPP's concerns regarding budget saying that the rehabilitation of flood victims was inevitable for economic growth.
"I have no doubt on prime minister's intention…but members of his [PM Shehbaz Sharif] team are not fulfilling their promises and prime minister should hold them answerable," he remarked.
"If Muslim League wants PPP to vote for this budget then its' not possible without allocating funds for flood reconstruction," the PPP chief cautioned.
The PPP chairman also expressed hope that Finance Minister Ishaq Dar and other members of government's economic team would soon address the party's reservations over the budget.
Finance Minister Dar unveiled an Rs14.5 trillion (around $50.5 billion) budget on June 9, with over half set aside to service Rs7.3 trillion of debt, raising concerns from various stakeholders about the economy's future.
A day earlier, PPP MNA Nafeesa Shah also called out its ruling partner PML-N for presenting an "unrealistic" and "election-oriented budget", questioning the party's intention behind this "populist" move despite economic uncertainty.
During the debate over the budget in the meeting of the National Assembly's Standing Committee on Finance and Revenue, Shah said that Shehbaz Sharif-led government told the lawmakers that "tough decisions" would be taken in the budget; however, no such measure was unveiled.
"An economic storm is looming over our heads," she warned, lamenting that the International Monetary Fund (IMF) is pressurising Pakistan and the economy will be in more trouble in the coming days.