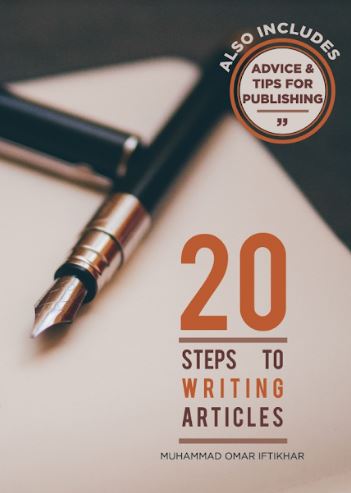 Muhammad Omar Iftikhar
KARACHI, OCT 7 /DNA/ – The awaited book "20 Steps to Writing Articles" authored by Muhammad Omar Iftikhar and published by Daastan, is finally available for aspiring writers and professionals alike. The book guides the readers on how to write articles that get published in renowned print and digital publications.
The strategies and methods mentioned in the book include idea selection, choosing a topic, the significance of researching, preparing an outline and the angle, determining the word count, using 'show, don't tell', editing, among others.
While commenting on the book, Omar said "I envisioned sharing with Pakistan's aspiring writers the insights, ideas, art, and the craft of developing articles that I learned during my writing career that began in 2004." Omar has published over 950 articles in Pakistan's leading print publications. "20 Steps to Writing Articles" is available in print and e-book formats.
The hard copy includes two bonus chapters: Publishing Advice and 20 Key Points to Enhance Your Writing Style. Omar is also the author of a science fiction novel, Divided Species (2020). Its story is set in Karachi and is the only such novel of its kind.