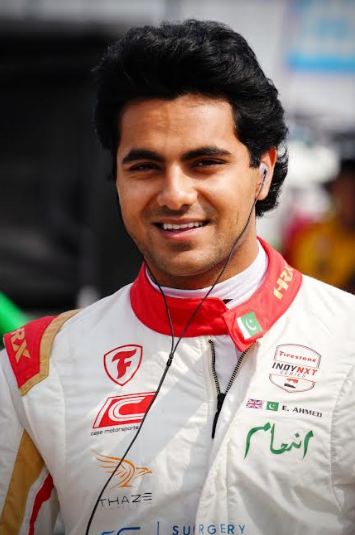 MONITORING REPORT
British Pakistani racer Enaam Ahmed finished 17th in the 2023 IndyNXT by Firestone race at Road America due to tyre issues, despite starting from the rear and battling for a top-10 position.
Nevertheless, as a determined rookie, Enaam remains focused on achieving further success and breaking records in his racing career for the remainder of the season.
Enaam Ahmed competed in the 6th round of the 2023 IndyNXT by Firestone this past weekend, taking on the historic Road America racing circuit.
The track is one of the most famous and challenging race tracks in America, and has hosted many of the top American racing series over the past 68 years.
Ahmed was forced to start near the rear of the field due to troubles with his car's performance during qualifying. He was not worried by the tough task ahead of him, however, and the 23-year-old put his considerable skills to work as soon as the race started.
After just two laps around the four-mile course, the Pakistani Panther had muscled his way past four drivers.
Ahmed went wheel to wheel with Matteo Nannini on the opening lap, and was even able to complete the pass around the outside of the Carousel, the fastest and most difficult corner on the track. He was on a mission to get the most from his car, and was already well ahead of his Cape Motorsports team-mate.
When he was battling with Danial Frost for a position inside the Top 10, Ahmed's car suffered a flat spot on his front tyre. Ahmed attempted to drive through the problem, but he pushed so hard that the tyre started to come apart while he was racing at over 170 miles per hour. He was forced to back off to prevent a catastrophic failure, and ended the race in 17th.
"Had a really good start, got into the top 10," said Ahmed after the race. "Car was fast. But unfortunately while fighting with Frost, I flat spotted my front left tyre. It just delaminated as the race went on and was completely down to the cords, which is why I went from the top 10 to basically the back. I'm lucky it didn't explode. I could just see it delaminating as I drove. So, very unfortunate weekend all around."
With Ahmed racing against some of the most talented racers in the world, he knows that he cannot fight for the win every single weekend.
The former British Formula 3 champion was still disappointed with the results, and vowed to come back even stronger for the remainder of the season.
So far this year, despite competing as a rookie in the series, the British-Pakistani racer has logged two top-five finishes. Even though he is the most accomplished racer to come from Pakistan, Ahmed has his sights on breaking many more records in his racing career.