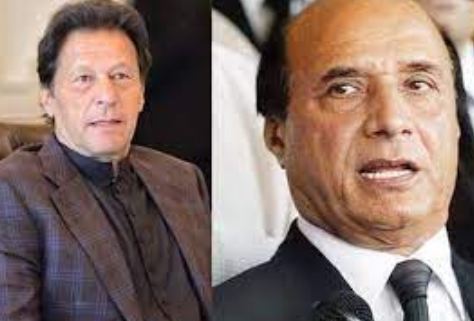 DNA
LAHORE: Pakistan Tehreek-e-Insaf (PTI) Chairman Imran Khan arrived at the residence of senior jurist Latif Khosa and strongly condemned the gun attack on his house, demanding strict action against those responsible for cowardice attack.
During the meeting on Monday, PTI Chairman stressed the need for initiating a comprehensive investigation into the attack in order to bring the responsible to book.
On the occasion, Imran Khan expressed deep concern and regret over the curb on freedom of expression, non-implementation of the constitution and law, the worst violations of human rights and the rapidly shrinking civil liberties in the country.
PTI Chairman lauded Latif Khosa for his bold stand for upholding supremacy of the constitution and the rule of law in the country.
They strong condemned the murder of constitution, law, independent judiciary and democratic values in the country through use of oppression, repression and fascism.
During the meeting, they agreed on starting a struggle for restoration of the constitution in its true form without any further delay to save the country from falling into the deep abyss of dictatorship.
They also agreed to speed up their peaceful democratic struggle for the protection of basic human rights enshrined under the constitution.