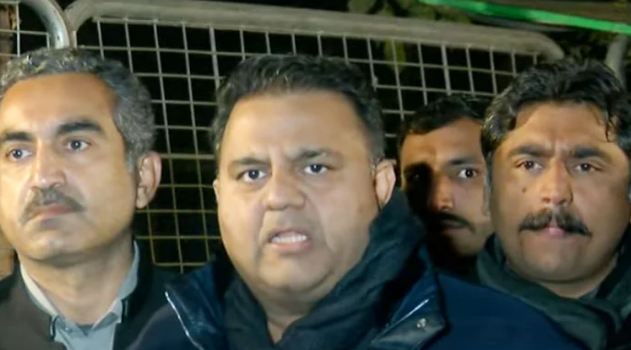 Pakistan Tehreek-e-Insaf (PTI) Senior Vice President Fawad Chaudhry claimed Tuesday that the party's lawmakers in Punjab were allegedly offered bribes from "unknown numbers" to shift their loyalties and urged Chief of Army Staff (COAS) General Asim Munir to launch an independent inquiry into the matter.
"The new army chief is apolitical and the institutions are not supporting any particular party in the country," Chaudhry said while addressing a press conference in Lahore following a meeting with PTI Chairman Imran Khan.
"Unfortunately, our MPAs from Muzaffargarh told the former prime minister that they received calls from unknown numbers and were offered bribes to change their loyalties," he added.
Unknown people met the members of the joint investigation team (JIT) tasked with probing the assassination attack on Khan and tried to dictate to them about the probe, he said, quoting the media reports.
Expressing serious concerns over the matter, the PTI leader urged the army chief to ensure the neutrality of the institution.
"We do not know that the allegations are true or not," he said and underlined the need for an independent investigation to bring forth the truth.
He maintained that in the previous elections, Rs1.2 billion were offered for five MPA by the Pakistan Democratic Movement (PDM).
"We want to keep a working relationship with the institutions. We don't want to get into a fight with institutions," he added.
Terming Khan an "asset of Pakistan", the PTI leader said that talking about minus Khan was tantamount to weakening the country.
Stressing the need for snap polls, the PTI leader said that elections are the only way to bring political stability to the country.
'PTI has 188 PMAs in Punjab'
Responding to a question about the number game in Punjab Assembly, the PTI leader claimed that his party has the support of 188 MPAs in the House.
He maintained that they would announce their future strategy tomorrow after the court's verdict. The PTI leader reiterated that they would dissolve the assemblies soon.
Responding to a question, the PTI leader said that PML-Q did not demand 20 seats, adding that they would make seat adjustments with the ally party in the province.