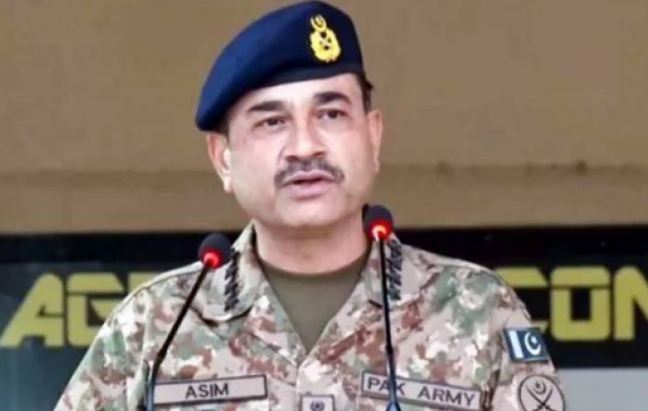 ISLAMABAD, MAR 08 (DNA) — The country's political and military leadership has assured the industrialists and investors that the economic situation is arduous but economic indicators are slowly but gradually improving.
The leadership was of the view that the tough situation is expected to ease soon. This was the outcome of an important meeting of business community with Army Chief General Asim Munir which was held two days ago.
The meeting was held on the request of the business community leaders. Finance Ishaq Dar and his economic team also attended the meeting. General Asim Munir declared in categorical terms that the Army will not interfere in politics in any way. Politicians should solve their issues on their own, he added.
The business community leaders who attended the detailed huddle said that the economic and political situation of the country was discussed, but the focus of the parley was the economic situation of the country.
During the meeting, all relevant issues including economic unrest, mistrust and political instability were discussed openly, while Ishaq Dar also briefed the business community on the IMF programme talks as well as the cooperation of friendly countries and the expected economic scenario.
The business leaders said that the political and military leadership of the country believed that the situation is difficult, but Insh'Allah the country will get out of it.
The Army Chief conveyed to the business leaders that there are problems but "not all is bad in Pakistan, together we will get the country out of the problems and fight till the end." He said though the crisis was serious but the country will emerge from it stronger.
Finance Minister Ishaq Dar said that due to the programme with the IMF, there have been some tough calls. The deal will be signed this week, Dar added. Ishaq Dar there was no threat of any default and IMF deal will be finalized this week.
The Army Chief and Ishaq Dar also asked the business community to play their full-fledged role in getting the country out of the economic mess.
The traders were told that along with the IMF, friendly countries, especially China and Arab countries, will help Pakistan as China and Arab countries will make big investments in Pakistan's agriculture and information technology sectors, besides portfolio investment is also expected. It is expected that the economic indicators will improve very soon.
According to sources, the Army Chief avoided to respond to any question relating to political situation prevailing in the country. General Asim Munir said he had respectfully declined to meet political personalities after receiving requests from them, the sources added.
Sources further revealed that the requests for meetings were forwarded by Imran Khan, Asif Ali Zardari, Maulana Fazlur Rehman and Maryam Nawaz, the COAS did not nod to any political meeting, saying interference in politics is neither his mandate nor his link to political affairs.
The sources said that the request for meeting with Imran Khan with COAS was made through Aiwan-i-Sadr. The political parties should hold talks themselves as bitter experiences of the past are still fresh in out minds, the sources quoted COAS as saying. — DNA