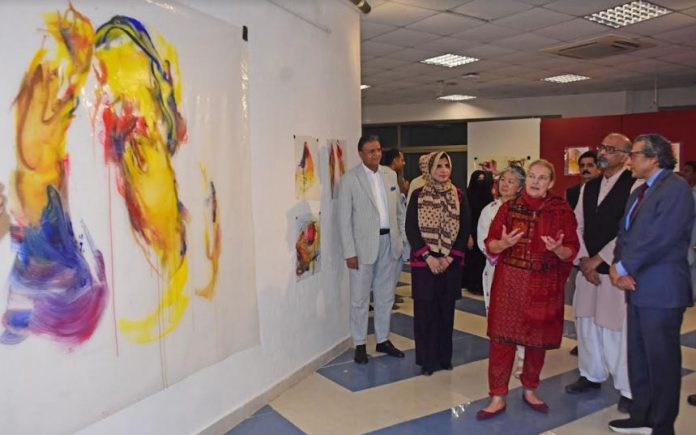 ISLAMABAD July 21 (DNA): Ex- Ambassador to Germany from Pakistan H.E Dr. Shahid Kamal along with Worthy Rector COMSATS University Prof. Dr. Sajid Qamar inaugurated "Intention v/s Convention" exhibition of German Artist Dagmar Rauwald at COMSATS Art Gallery on Friday (Today).
Mr. Ghulam Muhammad Memon Executive Director for ECO Science Foundation also attended the exhibition as guest of Honour.
H.E Dr. Shahid Kamal extended his gratitude to Dagmar Rauwald for coming to Pakistan and exhibiting her work over here.
He expresses his pleasure over the successful commencement of the show by COMSATS Art Gallery.
"Art is the best medium to bring people of two different nations closer and to bridge the gap," he added.
Dr Shahid Kamal expressed his delight to see foreign artists taking interest in coming to Pakistan. He said such activities will be beneficial for bringing up a good image of Pakistan in the World."
Rector COMSATS University Prof. Dr. Sajid Qamar expressed his pleasure over visit of Dagmar Rauwald on this occasion.
He said we are extremely honored to have Dagmar Rauwald amongst us and are pleased that she has showcased her Art Work in COMSATS Art Gallery. Her art works are beautiful and the technique used is unique. There is so much to be learnt from an artist who has travelled the World.
He hope that she takes back best memories from Pakistan. He thanked the artist and the guests who attended the show.
Executive Director ECO Science Foundation Dr. Ghulam Muhammad Memon also expressed his pleasure on witnessing a solo show by Dagmar Rauwald.
Artists are backbone of any nation and a sensitive group of people who highlight major societal issues and bring awareness through their work to build a stronger nation, he added.
Dagmar studied painting at Academy of Fine Art in Hamburg and graduated with Dr. Sigmar Polke. She is masters in Art and Philosophy.
She has been teaching Art and Philosophy at schools and universities since 2012. She is currently teaching at University of Sutherland in Hamburg.
Since 2016 she is curating at MOM Art- Space as an artist curator. Dagmar's paintings thrive on a high degree of emotional expressiveness. The paint is applied to the film in quick swings, where it clumps together.
Although the paintings always focuses on a pictorial center, which mostly consists of one or more bodies, the compositions demonstrate openness towards the edges of the pictures. Openness, transparency, glaze, heaviness, opaqueness or corporeality are some of the opposites inherent in the image which in Dagmar Rauwald's are set against each other with tension.