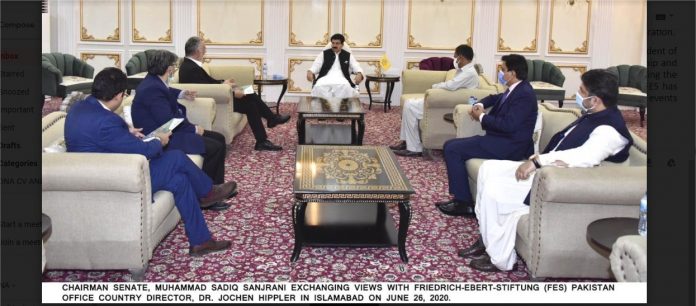 DNA
ISLAMABAD, JUNE 26 – Chairman Senate Muhammad Sadiq Sanjrani in a meeting with Country Director of German Institute Friedrich Ebert Stiftung, Dr. Jochen Hippler has expressed hope to maintain a promising and fulfilling working relationship and partnership between the International Parliamentarians' Congress and Friedrich Ebert Stiftung from the platform of International Parliamentarians' Congress (IPC).
The Country Director who called on Chairman Senate / Founder President IPC along with a delegation appreciated the initiative of Chairman Senate of launching IPC to bring together parliamentarians from around the globe on a single platform to discuss issues and proposals, share experiences, learn from each other's examples and deliberate for further collaboration.
A memorandum of Understanding (MOU) was administered between the two sides in the presence of Founding President of IPC. Country Director FES and Assistant Secretary General IPC signed the MOU to mark the beginning of a relationship and collaboration that will not only foster ties between the two organisations but will also act as a stepping stone for making the International Parliamentarians' Congress a meaningful platform in times to come on a global level. Furthermore, FES has appreciated the report of IPC Committee about UK Election and also shown interest for providing support to future events related to IPC's Committee on Monitoring and observation of Elections in the world.