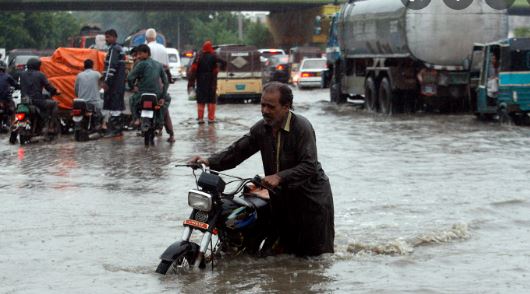 Concerned MNA, MPA and the newly elected chairman did not bother to visit or help flood & rain victims.
DNA
KARACHI: Following heavy rains and flood affected the provinces in country. Sindh is in a dire condition, people are living under the open sky, as 90 percent houses destroyed, seeking to help in affected areas.
It is surprising that on a 10-minute drive, the concerned MNA, MPA and the newly elected Chairman yet did not bother to look/visit various tribes, villages and areas alongside of Indus River told the villagers on the occasion.
Whereas, from Karachi MQM leader Farooq Sattar and PTI Karachi Leader Dr. Masroor Sial reached Sami and other areas Khairpur, Sobhodero, Gambat, Kandiyro parts to help victims.
According to Farhad Liaqat Sial, a key member of youth team, JDC along with relief convoy that came from Karachi.
He told 90 percent of the houses have been destroyed, while food and drink items including grain and livestock have been submerged in water.
He further told that the people are starving and thirsty under the bare sky without help.
Hundreds of families have been settled in the UN aided school and food and medicine camps are being organized for them, while, there is an appeal for more assistance.
On the other hand, hundreds of villages in the constituencies of Pakistan People's Party Chairman Bilawal Bhutto and Faryal Talpur have also been flooded, people are helpless and waiting for assistance.
According to Karachi senior journalist Nazir Siyal he told that, PPP Chairman Bilawal Bhutto and Faryal Talpur, elected from the said constituencies, have not even single visit before. According to journalist, his own native Village Nihal Khan Siyal, since the creation of Pakistan, from Zulfiqar Bhutto and Benazir Bhutto, not even a single scheme have been given in his native village.
He told that after the 80s, his late father's efforts were to grant electricity supply in village, when he was the Chairman. But till date no elected Assembly members/Minister or chairman even grant any scheme.
The senior journalist complained that after the current floods and rains in the constituencies of Bilawal Bhutto and Faryal Talpur, the condition of their village now looks like an ancestral graveyard, which is the mouth of words that devastated across every thing.