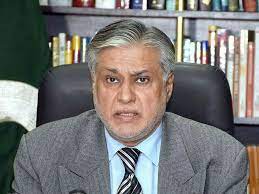 ISLAMABAD, Sep 14 (APP):Leader of the House in Senate Senator Ishaq Dar Thursday appreciated the contribution of the United Nations Conference on Trade and Development (UNCTAD) in highlighting global development challenges and the technical, policy and capacity building support it had provided to Pakistan.
During a visit to the UNCTAD Secretariat along with Senator Syed Muzaffar Hussain Shah and Senator Kamran Murtaza on sidelines of the meeting of World Trade Organization's Public Forum, he commended that the UNCTAD's advocacy efforts for addressing systemic imbalances embedded in the global financial architecture including for debt relief for developing countries, fair allocation and enhancement of Special Drawing Rights (SDRs) and mobilization of climate finance for disproportionately, affected developing countries, including Pakistan, said press release issued here by the Senate Secretariat.
Deputy Secretary General UNCTAD, Pedro Manuel Moreno briefed the delegation on key tracks of UNCTAD's work in the areas of technical assistance, research and analysis, and consensus building on key global trade and development issues.
The delegation is attending World Trade Organization's Public Forum at the invitation of the Inter-Parliamentary Union (IPU).
In addition to participation in the Public Forum, the delegation is scheduled to meet several high-level officials of important international organizations based in Geneva.