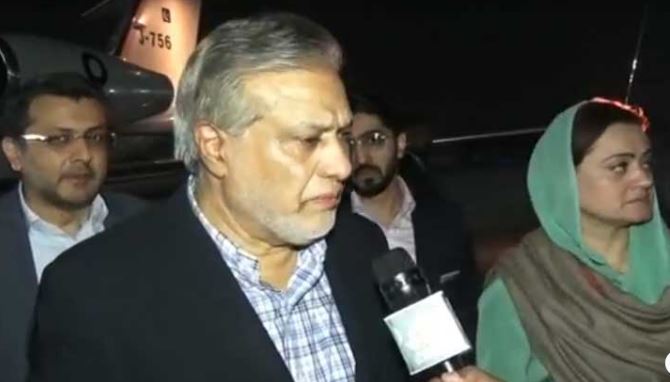 ISLAMABAD, SEP 26: Nominated Finance Minister Ishaq Dar on Monday reached Pakistan along with Prime Minister Shehbaz Sharif. According to details, Ishaq Dar has arrived in Islamabad to take charge of the Finance Minister, who will be sworn in as a Senator on Monday and as a Finance Minister on Wednesday.
It is pertinent to note that Dar has returned home after nearly five years to get the country out of economic woes.
Earlier on Sunday, Miftah Ismail resigned as finance minister in line with the party's decision while Ishaq Dar has been nominated as Miftah's replacement.
The Pakistan Muslim League – Nawaz (PML-N) supremo Nawaz Sharif and Prime Minister Shehbaz Sharif held a meeting in London to discuss the ongoing situation in the country and measures taken by the sitting coalition government.
The meeting was also attended by former Finance Minister Ishaq Dar, Marryium Aurangzeb, Miftah Ismail, Malik Muhammad Ahmad Khan and Ahad Cheema.