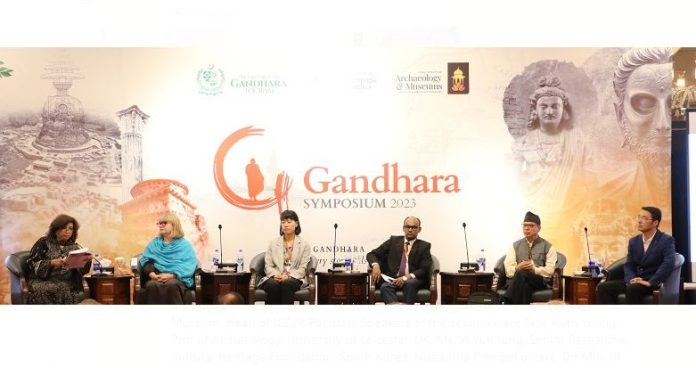 Islamabad, JUL 12: /DNA/ – The Day II of Gandhara Symposium 2023: "Cultural Diplomacy: Reviving Gandhara Civilization and Buddhist Heritage in Pakistan" commenced with the Fourth Session on "Exploring the Spirit of Gandhara: Preserving the Past & Illuminating the Future." The session was moderated Dr. Asma Ibrahim, Director, State Bank Museum, Head of ICOM Pakistan. Speakers of the session were Prof. Ruth Young, Prof of Archaeology, University of Leicester, UK; Ms. Yi Yun Jung, Senior Researcher, Cultural Heritage Foundation, South Korea; Nishantha Pushpakumara, Dir Min. of Buddhasana Religious And Cultural Affairs, Sri Lanka; Prof. Dr. Hridya Ratna Bajracharaya; Former VC Lumbini University, Nepal; and Prof. Xiang Debao, Prof. School of International Journalism & Communication, Beijing University.
The panelists discussed that the heritage sites were very important for religious practices but also for building religious and national identity. The speakers stressed the vital role of the local communities in the preservation, protection and promotion of the Gandhara heritage. They highlighted that the true spirits of Gandhara were reflected in the stone sculpture of fasting Siddharta, the academic excellence of Taxila and the mindful, pragmatic, imaginative, creative and bold nature of Gandhara. It was proposed to support the bringing of new digital technology and chemicals for the preservation purposes. It was also underlined that Gandhara was not only a communication but an all-out campaign for modernization for not only an international audience but also for the Pakistanis themselves.
In the Concluding Session, a summary of the Symposium was presented by Dr. Abdual Samad that highlighted key takeaways from the 2-day Panel Discussions, Round Table and In-house deliberations. This was followed by concluding remarks from Dr. Ramesh Kumar Vankwani, who stressed inter-faith harmony and shared his views and suggestions on promoting Gandhara tourism. An address by the Chief Guest Minister for Religious Affairs and Inter-faith, Senator Talha Mahmood, was delivered. Senator Talha Mahmood indicated that developing sustainable tourism initiatives, particularly related to Gandhara, should be one of our key goals. He highlighted the hospitable nature of Pakistani society and dispelled the negative propaganda about security in Pakistan. As a mark of Pakistan promoting inter-faith harmony, he extended an invitation to people of different faiths and cultures to visit Pakistan.
Lastly, a Vote of Thanks was presented by DG ISSI Ambassador Sohail Mahmood. He congratulated the organizers and participants on the completion of the academic sessions, which had held in-depth deliberations on various aspects of Gandhara civilization, and produced takeaways that would be beneficial in crafting an appropriate strategy and action plan. He extended special thanks to foreign participants and Pakistani scholars and experts for their insightful presentations and thoughtful discourse. He concluded that this Symposium, a multi-stakeholder enterprise, was a resounding success owning to the excellent collaboration and coordination among all relevant Departments and Institutions.