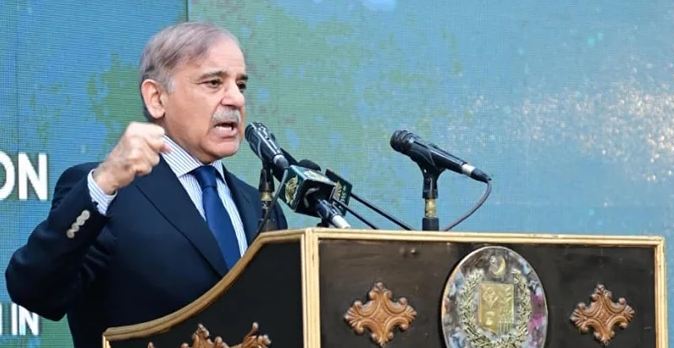 ISLAMABAD, JUL 12: Amid uncertainty surrounding the next general elections, Prime Minister Shehbaz Sharif has said that the coalition government's tenure will end on August 14 and the date for the next polls will be announced by the Election Commission of Pakistan (ECP) either in "October or November".
The premier's statement suggested that the incumbent rulers are not contemplating dissolving the National Assembly before its scheduled date which is due to expire on August 14 this year.
The general elections take place after 60 days when National Assembly completes its Constitutional tenure. However, if the government dissolves the lower house of parliament before its constitutional term ends then the polls date can be extended to 90 days of the dissolution.
"Our government's tenure will end on August 14 […] the election commission will decide when the polls will take place — whether in October or November," he said during the Education Endowment Fund launch ceremony in Islamabad on Wednesday.
Play
Unmute
Current Time
0:00
/
Duration
17:09
Fullscreen
"…whosoever forms the next government after elections, their top priority should be education so they can make this nation great," the prime minister said.
A budget of Rs3 billion, he said, had been earmarked this fiscal year for the endowment fund to equip the youth with education and make them "builders of the nation".
All major ruling coalition partners — Pakistan Muslim League-Nawaz (PML-N), Pakistan Peoples Party (PPP), and Jamiat Ulema-e-Islam-Fazl (JUI-F) — are seemingly on the same page for holding polls in line with the constitutional provision.
Earlier this week, the PPP — a key coalition partner — proposed the federal government dissolve all the assemblies on August 8.
Federal Law Minister Azam Nazeer Tarar had also categorically stated that there would be no extension in the term of the National Assembly.
Interior Minister Rana Sanaullah had said the assemblies could be dissolved earlier than the scheduled date of August 13 to "facilitate" the ECP.
The Pakistan Tehreek-e-Insaf (PTI) has also demanded the elections take place at their stipulated time as it sees "its victory" in the upcoming polls.
The government is under pressure as Pakistan sees one of its worst economic crises, fueling inflation to record highs and the prices not coming down despite the authorities' claims of "providing relief to the masses".
The PDM's popularity has gone down, according to recent surveys, and it faces an uphill task of wooing supporters to vote for them in the next elections.
The PML-N is eyeing the return of its supremo, Nawaz Sharif, as the party wants him in power for the fourth time. The three-time premier has a strong support base in Punjab.