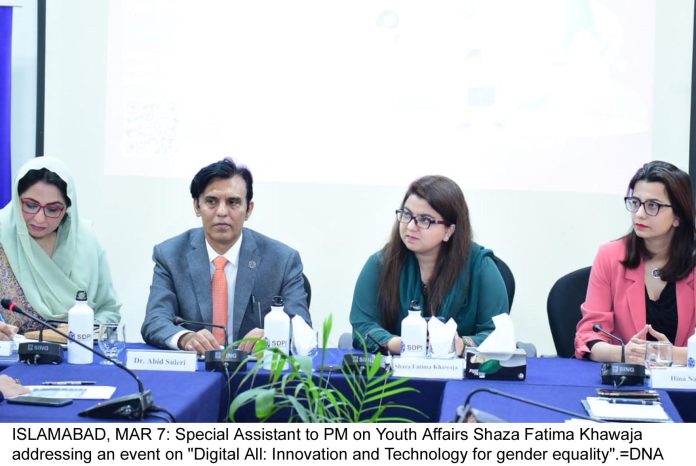 ISLAMABAD, MAR 7 /DNA/ – Women must have digital literacy, access to digital products, internet services and knowledge of e-commerce to bridge digital gender divide, said Shaza Fatima Khawaja, Special Assistant to Prime Minister on Youth Affairs.
She was speaking at a seminar on "DigitALL: Innovation and Technology for Gender Equality" organized by Sustainable Development Policy Institute (SDPI) here on the seminar International Women's Day 2023.
Ms Shaza Khawaja said that Pakistan ranks 90th out 122 countries on the digital gender divide and also second worst performing globally on Gender Gap Index. She informed the audience about various initiatives, including Digital Pakistan Policy that included ICT for girls, laptop scheme and Digiskills programme, taken by the government. She said these programmes have been executed by the Ministry of Information and Technology to upskill young children, men and women in Information Technology (IT). IT is a fast-transforming market and yet the employment prospects of IT graduates remain low due to the structural issues in academics, she said and added that the IT Ministry, in collaboration with IT industry and academia, is working on short courses to meet the industry's demands by upskilling students and ensure market competitiveness and higher employment prospects.
Dr Abid Qaiyum Suleri, Executive Director of SDPI, said that policies in Pakistan are usually gender blind, therefore, a more gendered and inclusive approach is needed in policy making. He said that FinTech has increased access to financial services for women particularly through mobile phones, yet over three-fourth of women in Pakistan lack access to internet services. He further said that for many women, cyberspace is no longer safe. He stressed the need for improving online safety of women to provide them a safe and conducive environment.
Shamama Arbab, Co-founder of Euro Industries, highlighted that only 1.5% women in Pakistan have access to internet and only 30% have mobiles while half of them lack access to internet, which shows the huge disparity. She stressed on equity rather than equality in digital services and skills through incentives like mobile sims with free internet packages and audio-enabled applications for women. She urged the government to issue gender credits to encourage organizations to increase women participation in their workforce. Elucidating the role of corporate and development partners, she stressed that upskilling initiatives must be the part of corporate social responsibility to emancipate women in rural and underdeveloped areas.
Hina Nasir, Director Marketing and Public Relations, Special Technology Zones Authority (STZA), suggested setting up community centres with internet and computer devices, and teachers to provide women with a safe learning environment. She stressed that literacy and access to Fintech is critical but the discussion must involve men to make them allies in women's emancipation.
Ayesha Nasir, Founder of Scaryammi said that mothers make a significant portion of women using digital platforms, enabling them to become IT savvy without formal training. Stressing the need for upskilling mothers, she said that it will have a spill-over impact in terms of gender parity in digital access.
Rabia Umaima Ahmed, Journalist/RTI Activist said that trolling and online harassment has shrunk the digital space for many women, making them highly unsafe. She called for evaluating the safety of digital spaces for women and the efficiency of authorities in handling and addressing complaints. She emphasized that unless digital spaces are made safe for women, and men are sensitized to these challenges, we cannot achieve gender parity.=DNA