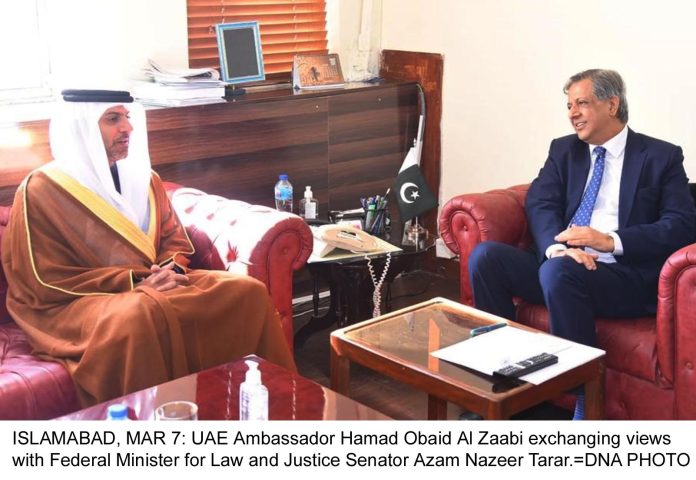 ISLAMABAD, Mar 07 (DNA): Ambassador of United Arab Emirates (UAE) to
Pakistan, Hamad Obaid Ibrahim Salem Al Zaabi called on Minister of Law
and Justice Azam Nazeer Tarar in Islamabad on Tuesday.
During the meeting, the two sides discussed bilateral national issues
between the two countries.
Speaking on the occasion, Azam Nazeer Tarar said UAE, being an old
friend, has always supported Pakistan in testing times.
He said we are grateful to the United Arab Emirates for its assistance
in economic stability of the country.
The Minister said overall situation of the country is improving under
the leadership of Prime Minister Shehbaz Sharif.
He said the Ministry of Law and Justice of Pakistan and the Ministry of
Justice of the UAE will continue to cooperate for the benefit of both
the countries and the convenience of the people.
On the occasion, the UAE Ambassador appreciated Pakistan's role for
peace and stability in the region.
He said political and economic stability in Pakistan is important not
only for Pakistan, but for the entire region