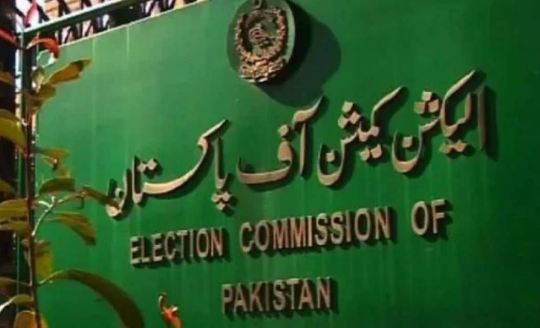 ISLAMABAD, JAN 09 (DNA) — Election Commission of Pakistan (ECP) will tomorrow (Tuesday) pronounce ruling against Pakistan Tehreek-e-Insaf (PTI) chairman and former prime minister Imran Khan in contempt of ECP case.
Among the PTI chairman, the ECP will also announce verdict against party leader Asad Umar, Fawad Chaudhry and others. The ECP had reserved the verdict of the case some time ago. It should be remembered that the former PM had sought immunity from attendance in the case due to the assassination attempt on him.
On Tuesday last week, the Supreme Court of Pakistan had allowed the Election Commission of Pakistan (ECP) to continue its proceedings against PTI Chairman Imran Khan, and his party leaders Asad Umar and Fawad Chaudhry in contempt case filed against them over controversial remarks against the electoral body.
The decision was announced by a three-member bench, headed by Chief Justice Umar Ata Bandial and comprising Justice Athar Minallah and Justice Ayesha A Malik but it has restrained the ECP from issuing a final order.
Last year, the top electoral body initiated contempt proceedings against the PTI leaders for allegedly using foul language against Chief Election Commissioner Sikandar Sultan Raja and ECP. It has served several notices on them, asking them to appear in person and explain their point of view.
However, the PTI leaders did not appear before the ECP and later challenged its powers to initiate contempt proceedings under Section 10 of the Election Act 2017 in different high courts.
The Section 10 of the election act states that the "election commission may exercise the same power as the high court to punish any person for contempt of court and the Contempt of Court Ordinance, 2003 (V of 2003), or any other law pertaining to contempt of court shall have effect accordingly[…]"
Later, the ECP filed a petition with the Supreme Court, seeking consolidation of all the six petition before one high court. In its decision, the top court said the ECP had been allowed to continue proceedings under Section 10 against the PTI leaders, but it barred the electoral body form giving final orders.
The order stated that the high courts had not barred the commission from contempt proceeding against the PTI leaders, who have questioned the incompetence of the ECP officer. "As these objections have been raised in the pending proceedings under section 10 before the ECP, the same are required to be considered and decided by it before passing any final order.
"We hold that the petitioner [ECP] may continue its proceedings in accordance with law including, by decisions on the objections raised on behalf of the respondents," the SC order added.
The top court has also barred courts from interrupting the operation of a statutory provision to the ECP. "[…] Unless a statute or statutory provision is finally declared to be ultra vires the Constitution, its normal operations can be curtailed by an interim order." Later, the court disposed of the ECP petition. = DNA