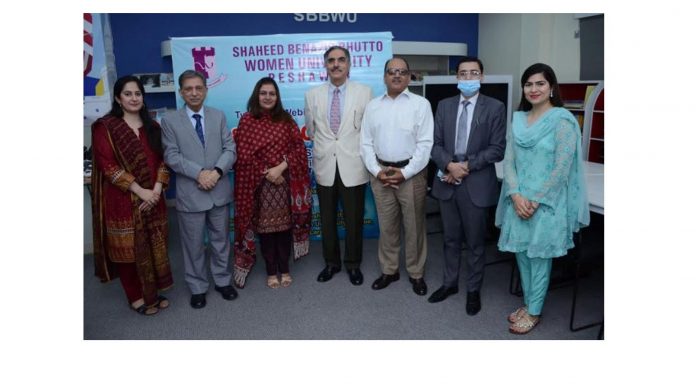 DNA
PESHAWAR, OCT 6 – Pakistan Development Foundation (PDF) and Shaheed Benazir Bhutto Women University Peshawar (SBBWU) collaboratively organized a two-day webinar on Pre & Post COVID-19 Lockdown, that aimed at preparing teachers and students to live in the 'new normal' and to understand and co-operate with each other.
The two-day webinar also focused at preparing the young people towards playing a positive role during the pandemics and untoward incidents. Chairman Council of Islamic Ideology (CII), Dr Qibla Ayaz, Vice Chancellor SBBWU, Dr Razia Sultana, Chairman PDF, Muhammad Bilal Sethi, known psychologist, Prof. Dr Khalid Mufti, Chairman National Technology Council Government of Pakistan Engr.
Imtiaz Hussain Gilani and Secretary-General Pakistan China Friendship Association (PCFA) Khyber Syed Ali Nawaz Gilani addressed the participants. Driven by Prof Beenish Asmat Ullah and Mrs. Tashfeen Zia, the webinar had plenty of students of the varsity itself and affiliated government colleges on first day and a large number of principals and teaching faculty on the second day in attendance.
Speaking on the occasion, Chairman of the CII, Prof. Dr. Qibla Ayaz said that our spirit should be conveying our feelings to each other for which physical interaction is not the only way. He added that the youth can play a role of paramount importance in spread of awareness against the COVID-19.
The Vice Chancellor SBBWU, Razia Sultana said that opening of universities is a challenging situation but her team is determined to take this challenge and get through it in a spic and span manner. She said that the lockdown strengthened the institution of family.
It also enabled us to know our weaknesses and strengths and enabled us to perform certain works by our own selves. She called for youth to read books during the situations like lockdown. Similarly, the Chairman of the PDF, Muhammad Bilal Sethi expressed that due to prolonged lockdown the students and faculty members have developed psychological changes. He added that the lockdown had also disturbed their daily routines, however, upon abrupt opening of institutions, it must be difficult for them to adopt with each other. This process will take quite some time. Sethi laid his emphasis on organizing training sessions for them towards preparing them to adopt with each other in less time.
He assured out all his organization's support in this endeavor as his organization works on promotion of education, he remarked. He urged the youth to play its roles for the betterment of the lower-middle class who was affected by corona the most.
He also announced to donate books to the libraries of 04 participant colleges. Speaking to participants, Ali Nawaz Gilani appreciated the initiative and called for universities to arrange more webinars of the kind in the times to come. He also shared that we should also learn from experiences of China in post Covid-19 sceniro in order to counter these new challenges.