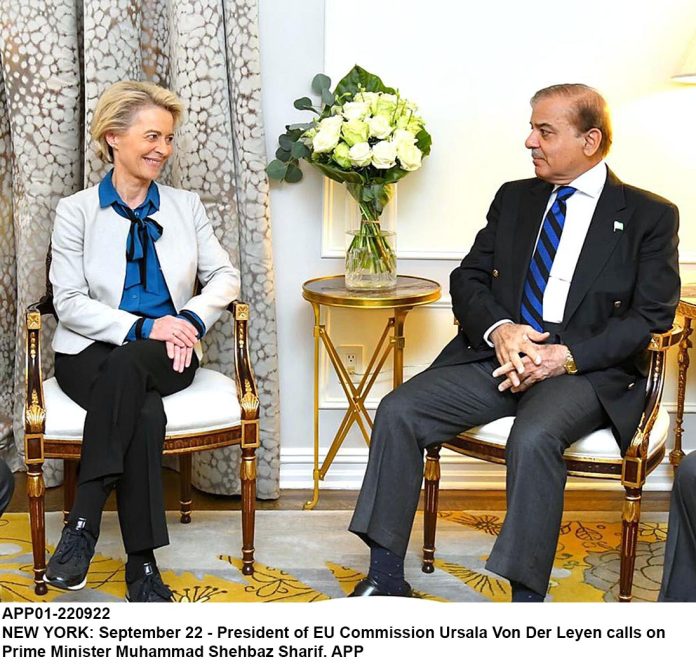 EU pledges
more aid for
flood victims
PM meets EU Commission chief Ursala von der Leyen, Bill Gates at UNGA sidelines
Centreline Report
NEW YORK: EU Commission President Ursala von der Leyen held a meeting with Prime Minister Shehbaz on the sidelines of the 77th session of the United National General Assembly (UNGA) in New York as she expressed grief over the loss of lives in ravaging floods in the country and pledged "new humanitarian aid in the coming weeks".
During the meeting, the premier highlighted the damage wrought by floods, causing widespread damage.
According to National Disaster Management Authority's (NDMA) daily situation report, seven more people lost their lives in the previous 24 hours.
After the meeting with PM Shehbaz, Von der Leyen tweeted that she conveyed to the premier "personal condolences for the victims of the terrible floods".
"We will come forward with new humanitarian aid in the coming weeks, to support the people of Pakistan," she added.
Later in the day, PM Shehbaz met Microsoft co-founder and billionaire philanthropist Bill Gates.
The Prime Minister apprised him about human cost of climate change, food insecurity triggered by floods and plight of flood-stricken women and children.
During the meeting, they exchanged views on matters of mutual interest.