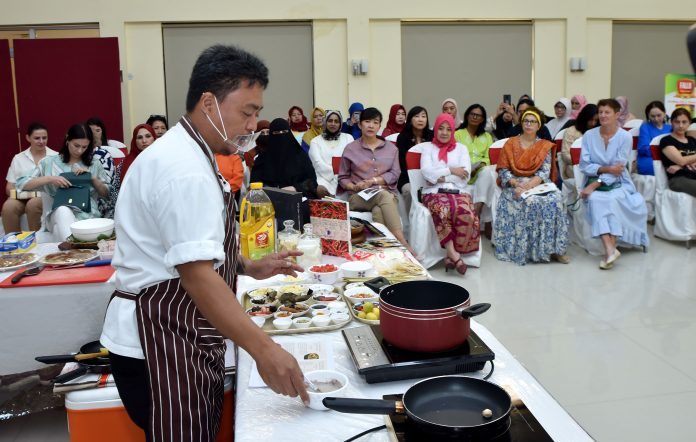 Indonesian Culinary Cooking
Workshop draws huge interest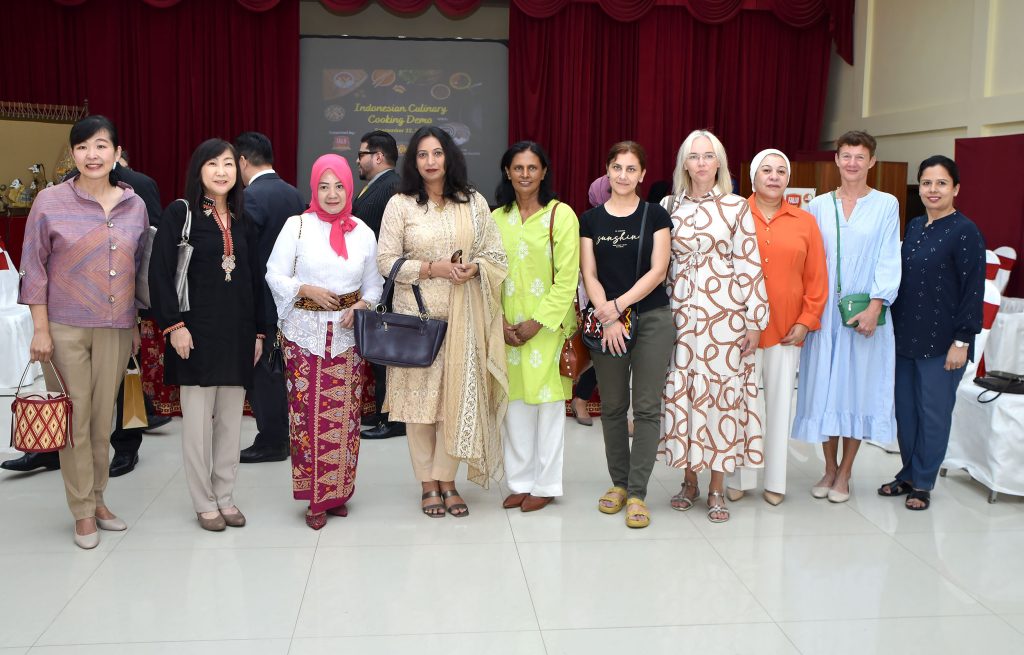 Staff Report
ISLAMABAD: The Indonesia embassy organized a cooking workshop at the Embassy premises showcasing live cooking by the renowned Indonesia Chef Budiono, a professional chef from Indonesia. Through the event funds were also raised for the flood victims in Pakistan.
The embassy staff and the Indonesia students collected donations among themselves. The collected items and donations were handed over to the head of the Pakistan Red Crescent.
Ambassador of Indonesia Adam Tugio while speaking on the occasion said, that he was truly delighted to welcome guests at this exciting event of "Indonesian Culinary Cooking Demo".
He added, the Embassy has organized this event in line with the Indonesian government's program called 'Indonesia Spice Up the World (ISUTW)' to promote local spices and cuisines especially at the international stage to boost the spice trade activities.
As the world's fourth-largest exporter of spices valuing around USD500 million per year and second-largest pepper producer in the world, the Indonesian ISUTW initiative also aims to increase exports of processed food and to attract more tourists by promoting indigenous local dishes while visiting Indonesia.
Ambassador Adam further said, It is often said that 'There is no sincerer love than the love of food'. And truly, the love of food is universal which generates friendships and promote culture. On the other side,there is no concept of food without spices, therefore,global popularity of flavorful spices travel together with food for their unique aroma and healthbenefits. What we often call 'secret ingredients' of famous food recepies, are actually a balanced combination of spices.
'That is why it is no wonder that with the growing popularity of 'Go Organic and 'Eat Healthy' trends along with appearance of multiple food channels, the outreach of international food chains and food conscious culture are expanding across the world.We are no more surprised to see thatsome renowned Indonesian signature dishes like NasiGoreng, Beef Rendang and Satay are now adored globally due to their exclusive taste and flavorful spices'.
He said, , another attractive aspect for food lovers of both Indonesia and Pakistan is similarity and generous usage of spices in their cuisine; for example Pakistan has Pasanday – Indonesia has rendang, Pakistan has chicken tikka – Indonesia has Chicken Satay, Pakistani has pakora – Indonesia has bakwan. Interestingly, many spices such as nutmeg, cloves and pepper used in famous Pakistani Garam Masala, a combination of 11 spices, also come from Heartland of Spices, Indonesia.
'I trust that this background generates more interest in this event. You must have heard that 'A recipe has no soul, you as the cook must bring soul to the recipe.' The demo by Chef Budiononow will reflect the spirit of traditional Indonesian art of cooking by preparing food as an artist and presenting it as a masterpiece. I hope you enjoy and appreciate his efforts'.
While concluding his remarks Ambassador Adam said, he would like to inform that as a mark of our solidarity and sympathies with the flood victims in Pakistan,we have planned to raise some funds with your generous support. No doubt, the magnitude of devastating floods is very huge but we would like to assure our Pakistani friends and sisters that they are not alone at this difficult time.