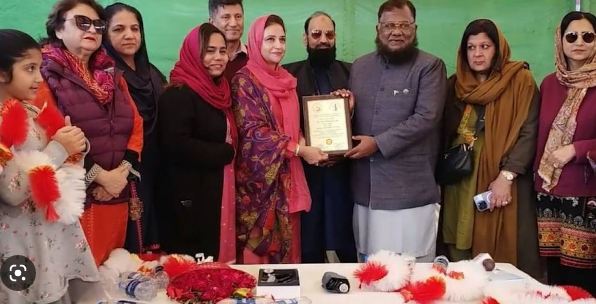 RAJANPUR, Dec 18 (DNA) — The senior faculty of Fatima Jinnah Medical University (FJMU) has inaugurated "Fatima Jinnah Village" put up for the flood survivors of Rajanpur District, South Punjab. 
According to the sources, the senior faculty of FJMU along with the college Alumni Association of North America and Alumni of Fatima Jinnah Medical University visited Fazilpur, District Rajanpur. They inaugurated the newly constructed houses beside a medical dispensary established for the provision of medical care facility to the flood victims.
The Fatima Jinnah Village is envisioned by FJMU VC Dr Khalid Gondal to provide service delivery and telemedicine services to the flood-afflicted area of Rajanpur. The village was erected with the generous assistance of the Customs Health Care Society. It was established as a project for the rehabilitation of citizens.
Vice Chancellor Dr Khalid Masood Gondal, Dr Fayyaz Ranjha, Dr Shamsa Humayun, Dr Maniza Qayyum, Dr Zahra Khanum, Dr Balqis Shabbir, Dr Imran Aslam and Dr Owais, Dr Usman, Dr Salman and Dr Abdullah were part of the team who visited the village. Dr Faza Rafiq, Dr Zahid, Dr Fauzia Rana, Dr Fauzia Anwar, Dr Waseema and Dr Samina Tawfiq were also in the delegation.
The delegation was welcomed by Dr. Asif Mehmood Jah and Secretary, Custom Healthcare Society, Dr Yamna Asif, who played an important role in the relief, rehabilitation and construction of houses in the village. So far, more than 80 houses, a community center and a dispensary have been constructed in Fatima Jinnah Kashani village with the support of FJMU and the college Alumni Association of North America.
Visitors from the US and Canada also distributed warm clothes and blankets to the residents of the affected areas. The team has also provided medical cover to the affected areas. The residents of the area highly appreciated the support and services of the medical community. =DNA