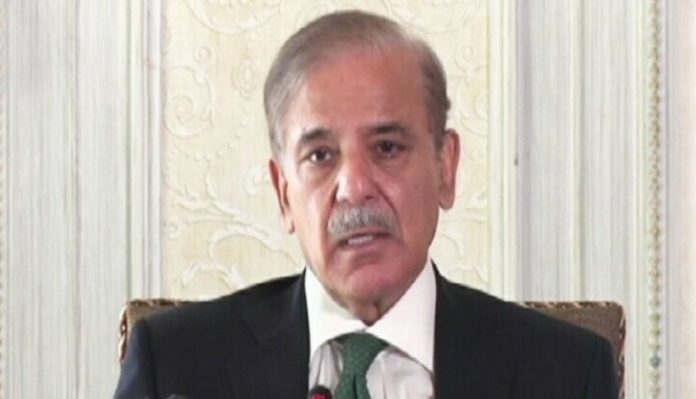 ISLAMABAD, MAR 15: Prime Minister Shehbaz Sharif said on Wednesday that the threat of Pakistan defaulting on its debts was "now over" and that a staff-level agreement with the International Monetary Fund (IMF) would happen "soon".
Addressing a delegation of Council of Pakistan Newspapers Editors (CPNE) in Islamabad, the premier said his government had successfully managed to save the country from default.
He said all the efforts were being made to pull out the country from an economic slump.
"It has been 11 months since the coalition government took over and economically, Pakistan has moved past the fear of default but the agreements that were made with the IMF will affect citizens for some time to come," PM Shehbaz said.
He accused the previous government of knowingly abandoning the agreements it made with the IMF.
"The previous government realised in January 2022 that the opposition had a viable and constitutional plan to remove [then-PM] Imran, so they went on to violate the terms agreed upon with the IMF," he said.
The premier insisted that he had inherited an economy in shambles and that it was a difficult task for him to push it into recovery, particularly because his government had to honour agreements made by the previous PTI government.
An agreement with the IMF would release $1.1 billion, which analysts say is critical if Pakistan is to avoid defaulting on external debt obligations as it would also unlock inflows from friendly countries.
Cash-strapped Pakistan is in a race against time to implement measures to reach an agreement with the IMF on the completion of the ninth review of a $7bn loan program — which has been delayed since late last year over a policy framework.
Zaman Park mayhem
The prime minister also spoke on the face-off between law enforcement agencies and PTI supporters at Lahore's Zaman Park, where a bid by Islamabad police to arrest PTI chief Imran Khan faced resistance from party supporters and workers.
The premier accused Imran of defying the courts, pointing out that leaders from the PML-N, including Rana Sanaullah and Nawaz Sharif, had appeared in courts without any objection.
He also said that no party could run away from elections and cleared the air regarding a perception that the PML-N was shying away from going into polls.
"We will go for elections according to the guidelines set by the election commission," PM Shehbaz said.