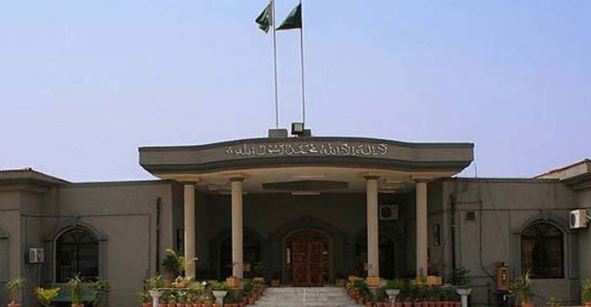 ISLAMABAD, MAR 15: The Islamabad High Court on Wednesday disposed off a petition filed by Pakistan Tehreek-e-Insaf (PTI) seeking cancellation of arrest warrants issued for party chairman Imran Khan in Toshakhana case.
According to details, the IHC announced the verdict after reserving it earlier in the day and directed Imran Khan to submit the undertaking, wherein he assured that he would appear in court on March 18, to the trail court.
In the judgement, the IHC said that the trail court should decide on the former premier's undertaking in accordance with the law and upheld the trial court's order in the case.
IHC Chief Justice Aamer Farooq took up the petition filed by the PTI legal team. The party had filed the petition after police reached Zaman Park to arrest the PTI Chairman in Toshakhana case.
At the outset of hearing, the IHC judge asked Imran's counsel, Khawaja Haris Ahmed, if he had addressed all the objections previously raised on the petition.
Haris said that the court had directed the PTI chief to appear before the court on March 13 however he was unable to do so.
During the proceeding, the former premier's counsel presented an affidavit signed by Imran Khan and urged the judge to suspend the arrest warrants issued for his client. "Whether it was a civil court or a trial court, one must show respect to the court," the IHC chief justice remarked.
Justice Farooq then remarked that a political party's workers were attacking the police, adding that it was an attack on the state. The court then reserved the verdict.
A local court in the federal capital issued Imran's arrest warrants and ordered the police to arrest Pakistan Tehreek-e-Insaf (PTI) Chairman Imran Khan in the Toshakhana case once again over his non-appearance.
LHC stops police operation at Zaman Park
Earlier in the day, the Lahore High Court (LHC) stopped police operation at former premier Imran Khan's Zaman Park residence till 10am tomorrow (Thursday), putting a halt to day-long clashes that had erupted after police tried to arrest the PTI chairman in the Toshakhana case.
LHC's Justice Tariq Saleem Sheikh issued the order on a petition filed by PTI leader Fawad Chaudhry seeking to stop the "atrocities" outside Zaman Park.
Read More: Real intent behind arrest to 'abduct, assassinate': Imran Khan
The court had earlier instructed the Punjab inspector general, chief secretary and Islamabad police (operations) head to appear in court by 3:15 pm. The court reprimanded the additional attorney general for baselessly defending the operation.
After the LHC order, Police and other law enforcers pulled back from former premier Imran Khan's Zaman Park residence.