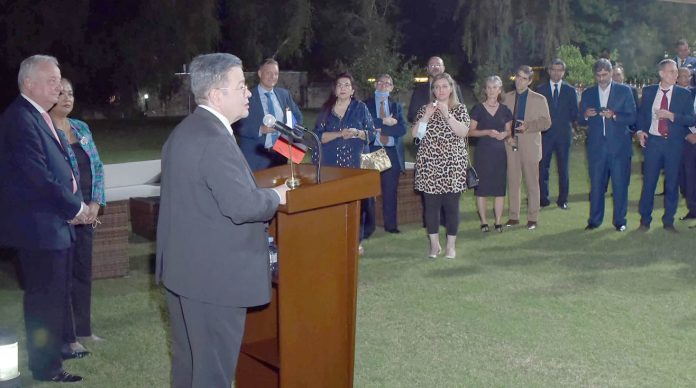 Dominique Simon is leaving Pakistan after completing his tenure; wishes to come back again
ISLAMABAD: Ambassador of Indonesia Adam Tugio, Ambassador of France Nicolas Galey and the outgoing Head of Economic Section Diminique Simon and his wife.=DNA
ISLAMABAD: Ambassador of France Nicolas Galey speaks during a reception he hosted to bid farewell to Dominique Simon.-DNA
Special Correspondent
ISLAMABAD: Ambassador of France Nicolas Galey hosted a reception to bid farewell to the Head of the Economic Section Dominique Simon who is leaving Pakistan after completing his term for the second time. Mr. Dominique had already served on the same position.
Ambassador of France in his brief remarks praised Dominique for his outstanding services. He said Dominique Simon has been to over 82 countries as part of his professional assignments. The ambassador mentioned some of the countries where Mr. Dominique had served including his posting in Pakistan.
Ambassador Galey said it was a privilege for him to know Mr. Dominique when he arrived in Pakistan five months ago. "I, indeed benefited a lot from the experience of Dominique Simon besides getting to know Pakistani friends through him".
Dominique Simon in his speech thanked the ambassador for hosting a reception for him and his spouse and providing him with a chance of meeting with close friends and bidding them a farewell.
He, on the occasion, shared with the audience fond memories of his tenures in Pakistan. He said he is leaving Pakistan but his heart would always throb with the people of Pakistan adding he would wish to come back again to this beautiful country.
He said during his tenures in Pakistan he tried his best to contribute to cementing of trade and economic relations between the two countries. He especially thanked his Pakistani partners for being a great source of support and inspiration.