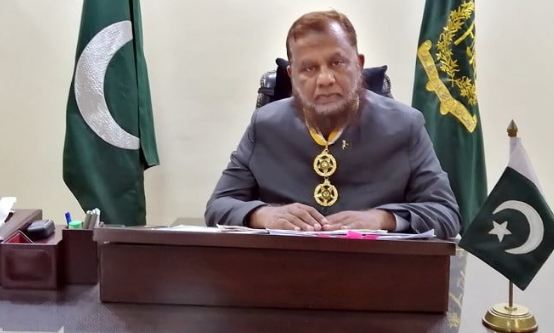 ISLAMABAD, SEP 12 (DNA) — Rotary Pakistan proudly announces the appointment of Dr. Asif Jah, Federal Tax Ombudsman, as its Ambassador. This prestigious appointment reflects Rotary Pakistan's recognition of Dr. Asif Jah's unwavering commitment and tireless efforts in serving the community.
Dr. Asif Jah's dedication to public service aligns seamlessly with Rotary Pakistan's mission of "Service Above Self." In a meeting with ARPIC Imran Ghaznavi, the Spokesperson for Rotary Pakistan, Dr. Asif Jah was officially welcomed into the Rotary Family, marking the beginning of a collaborative journey dedicated to making a positive impact on the lives of those in need.
Imran Ghaznavi, Spokesperson for Rotary Pakistan, expressed his enthusiasm about this significant appointment, stating, "We are thrilled to have Dr. Asif Jah join us as our Ambassador. His support, expertise, and deep understanding of community service will undoubtedly be a valuable asset in our ongoing efforts to reach out to individuals and communities in need."
Rotary Pakistan is committed to fostering partnerships and collaborations that strengthen its resolve to bring positive change to communities across the country. Dr. Asif Jah's appointment as Ambassador underscores the organization's dedication to enlisting individuals with a passion for community service and a drive to create meaningful impacts.
As Ambassador of Rotary Pakistan, Dr. Asif Jah will play a pivotal role in advocating for the organization's initiatives and furthering its mission to serve communities through various projects and programs.
It is pertinent to mention here that Rotary Pakistan consists of Rotary Districts 3271 and 3272 comprising dedicated Rotarians committed to making a positive impact on communities across Pakistan.
Through its various projects and initiatives, Rotary Pakistan strives to address pressing social issues, promote sustainable development, and uphold the principles of "Service Above Self." — DNA