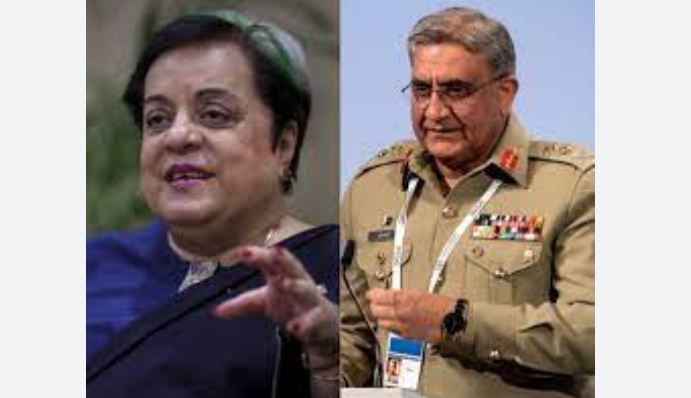 ISLAMABAD, FEB 18: PTI senior leader Dr Shireen Mazari has claimed that former army chief (retired) General Qamar Javed Bajwa wanted to "resettle" members of the proscribed Tehreek-i-Taliban Pakistan (TTP) in the country, following Afghan Taliban's takeover of Kabul in August 2021.
Mazari made these remarks on Dawn News programme 'Doosra Rukh', which will air at 7pm today. The statement from the former minister comes at a time when there has been a substantial increase in terror activities across the country, with an attack on the Karachi police chief's office on Friday night being the latest incident.
The hours-long combat between terrorists and law-enforcement agencies, at the office located at Sharea Faisal, left four people martyred and 16 injured while all three terrorists were reported to be killed.
During the interview, Mazari said, "Bajwa at one point brought up the matter (of Taliban) — General Faiz was also present at the time — that there are Pakistani nationality families in the TTP who want to return to the country.
"If they accept the Constitution and lay down their arms, something should be done for some sort of resettlement and talks should be held."
The PTI leader added a meeting was called as the resettlement suggestion had caused an "immediate reaction from the elected PTI members".
"It was clearly decided that before initiating a dialogue, a committee will be formed between the elected representatives and the military to form a consensus as our elected people have a lot of reservations."
Mazari said the PTI had demanded that first, a consensus should be reached and then a dialogue with the TTP should be initiated.
She then lamented that afterwards, the PTI government was ousted and the current government "did not care about what dialogue was to be held with whom".
The former MNA asserted that the blame for failing to deal with the TTP would "fall not on us but the imported government".
The PTI leader insisted that Gen Faiz had made a visit "in the beginning to talk to the Afghan government" and not the Taliban.