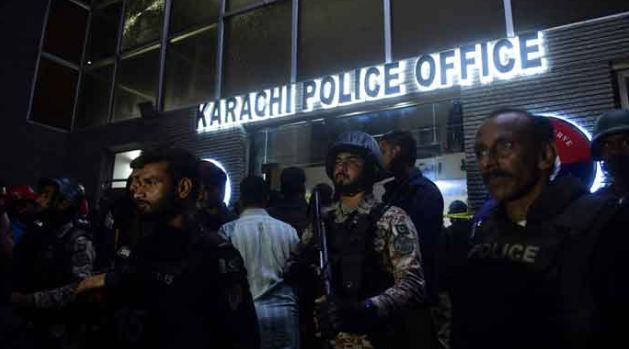 KARACHI: Flaws have been identified in security arrangements at the Karachi Police Office (KPO) — a centrally located building on the city's main artery — which came under a terrorist attack on Friday.
All three militants were killed and four people, including two policemen and a Sindh Rangers sub-inspector, embraced martyrdom in the nerve-racking operation that lasted for nearly four hours.
Banned outfit Tehreek-e-Taliban Pakistan (TTP) has claimed the responsibility for the attack.
Eighteen other people, including police and Rangers personnel, were also injured in the terror attack, which occurred after a deadly suicide attack at a Peshawar Civil Lines mosque that left 84 dead.
There is no security gate to enter Police Lines Saddar where families of policemen are residing.
Sources said that terrorists allegedly entered KPO by climbing the rear wall and the three security checkposts at the city police chief's office were not manned at the time of the attack.
"Barbed wire, on the rear wall of the KPO, was also cut," they said, adding there are no CCTV cameras installed to monitor the building from the Sharea Faisal side.
Police investigators have collected the evidence. The car in which the terrorists came is present at the Saddar police station.
The law enforcement agencies identified three terrorists involved in the KPO attack. Two of the terrorists belonged to North Waziristan while one of them belonged to Lakki Marwat.