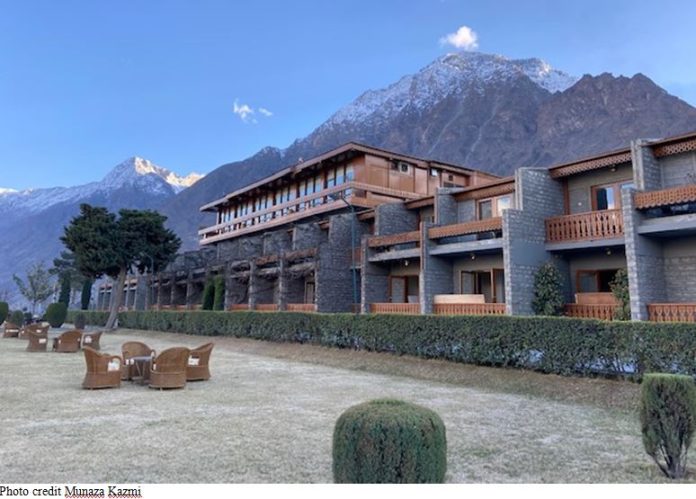 Munaza Kazmi
Gilgit-Baltistan is, perhaps, the most spectacular region of Pakistan in terms of its geography and scenic beauty. Moreover, it is strategically close to the heart of Central Asia and is the home of the world's greatest mountain ranges. The Karakoram, The Himalaya, The Hindukush, and The Pamir radiate out from this center like spokes on a wheel. This array of mountains has carefully guarded Pakistan's frontiers with China, India, Afghanistan and across the narrow Wakhan corridor.
Rich in history, culture, and natural beauty the area has been visited for centuries by travelers, both modern day tourists and ancient travelers from the Silk Road. It also remained for many years a focal point of political and military rivalries amongst the Russian, British and Chinese empires.
Gilgit the capital of Gilgit-Baltistan known as Asia's wonderland stands as the paradise when it comes to describing the beauty. Also, the region holds much significance on ground of linking Pakistan with China and Central Asia. Moreover, in past it was a major hub for Buddhism.
Gilgit is a dazzling mountainous valleysituated at an elevation of 1,500 meters, which make the topography and climate quiet extreme. However, due to the smooth working of Karakoram Highway, and Gilgit Airport one can easy reach Gilgit.
For every kind of traveler, the city has a package, there's nature, history, adventure, discovery, and luxury. Common language is Balti, instead I would say "Hospitality".

Besides the supreme astonishing fact is, the region has one of the highest literacy rates as compared to other similar districts in Pakistan due to the influence of His Highness Prince Karim Aga Khan, whom most of the populace follow as their spiritual leader, I had seen an equal number of girls wearing school uniforms on top, and women working side by side with men. I had found them in almost every fragment of market let's say selling jewels, on tea stalls, in self-operated restaurants, in fields, and even in hotel "Gilgit Serena" where I was staying. This I found very remarkable!
Gilgit Serena Hotellocated on Sherullah Baig Road is in proximity from the bus stand and the airport is a gorgeous resort property in the cradle of the glittering Karakoram Mountainrange and was my home for the next few days.
Today after a year the memories of the Elegantly chic building with floral lawns stretching on a massive area, natural water fountains, my early morningwalks in the bloomy gardens, picking juicy apples, tasting red strawberries, running after babysquirrels and that afternoon joys of swing makes me think of planning for another.
Nestled into the glittering shadow of the stunningKarakoram Mountain range, Gilgit Serena Hotel recaptures the warmth and charm of a long-ago mountain retreat, allowing visitors to experience the legendary region in a most authentic way while enjoying modern day amenities.
The Hotel offers new experiences and discoveries amid an ancient setting. Where nature lovers can explore the snow-capped beauty of the Karakoram mountain range while enjoying superlative local cuisine in heritage-style.
Furthermore, perfect attention to detail and an eye for local design and décor has been given that creats a warm, inviting shelter after a day of adventure. Every interior and furnishing of the room display the aura of pure Gilgit-Culture.Give your skin a new life by having a refreshing bath in the adjacent shower room, equipped with contemporary amenities. Later in the evening, grab a cup of coffee and step out onto the private balcony, I betyou would be enslaved by the captivating views of Shiny Mount Rakaposhi, Kaleidoscopic Danyore Village, and Dancing Gilgit and Hunza Rivers.
In total The Hotel has 44Deluxe Rooms,including 02 Executive Suites which merge modern comfort with traditional refinement recently upgraded. Beside bed and bath, all accommodations feature minibars, mini refrigerators, work desks, 24-hour room service, private balconies and most significant to remember all rooms are smoke free.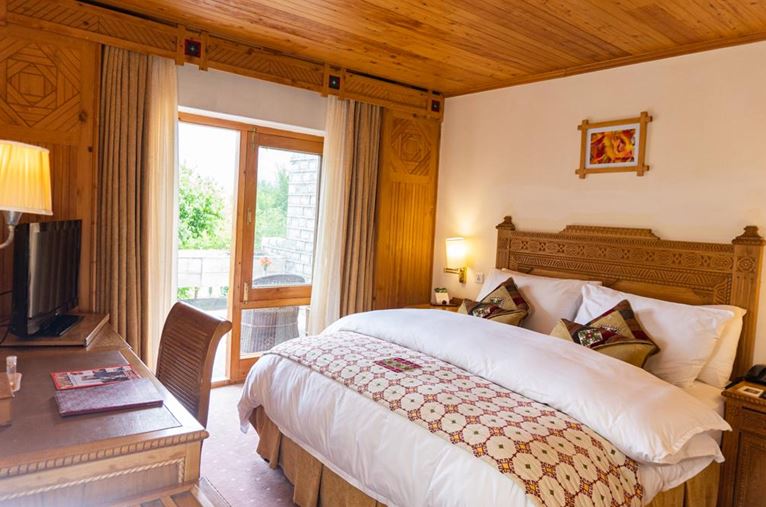 Executive Suites: Spacious 707-square-foot Executive Suites, designed for travelers seeking more space, feature a king bed, separate lounge, and a private balcony with outdoor seating.
Deluxe Rooms: Handsomely designed, these 41 rooms offer one king or two twin beds, a work desk, internet, a safe deposit box and attached bath.
Hence you can tailor the visit according to your requirement.
Dinning: For Dinning Gilgit Serena Hotel is the perfect choice, on my first visit I thanked my friend for the recommendation. It's a treat for all 5 senses, the fabulousTraditional environment, the aroma of freshly baked bread, the hospitable staff, delightful food and the dazzling view of Mount Rakaposhi. Moreover, the hotel offers authentic Pakistani delightsincluding local regional dishes, complemented by innovative Chinese and Continental specialties with Inviting surroundings.
Gilgit Serena Hotel features a splendid restaurant to enchant every palate, with ambience as unique and inspiring as the cuisine. Whether you are looking to indulge in a lavish buffet or Afternoon High Tea on Sunday, unforgettable dining experiences await.
Furthermore, all meals at the hotel feature fresh ingredients some from Hotel's very own fruit orchards and organic vegetable garden, providing you with the unique opportunity to savor some of the best cuisine in the region.
Dumani Restaurant: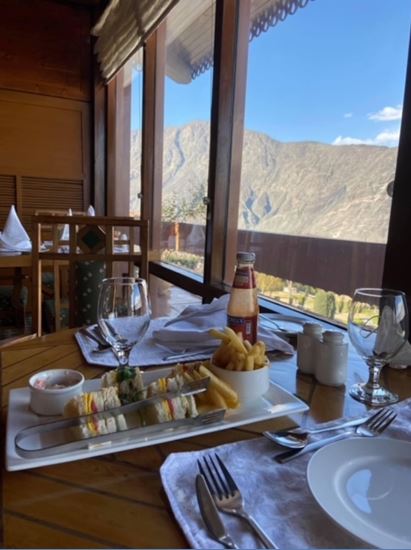 Renowned throughout Gilgit for its Pakistani, Continental, and Chinese cuisine. I enjoyed thelavishfood with views of the hotel's lawns, mountains and the live playing of Rubab and Tabla on the unforgettable the tune of Shahrukh's "Baazighar".
Restaurant serves breakfast, lunch and dinner, though on Sunday, a High Tea is accompanied by buffet and a la carte service. However, Breakfast is complimentary for all the hotel guests. 
Garden BBQ: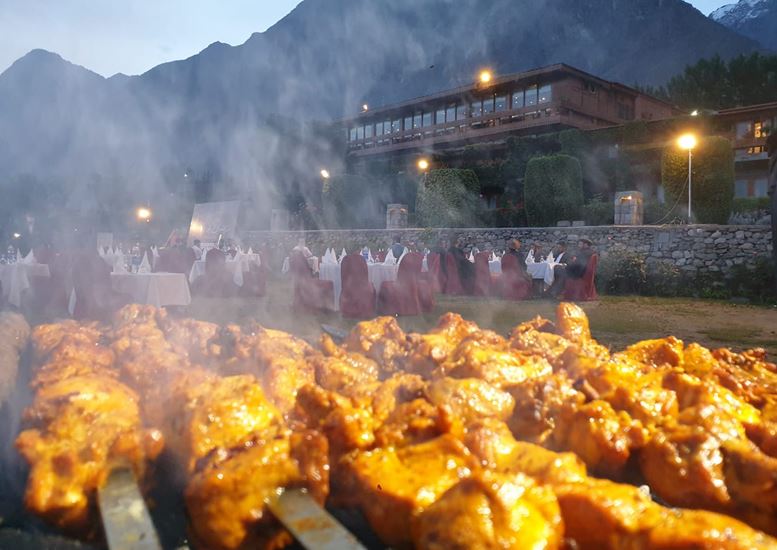 From May through September, Garden BBQ features everything from seafood to local chicken and beef specialties, under the shade of native trees.The sounds of traditional live music and the water channel's gentle cascade offer an enchanting backdrop for a classical dining experience.
In-Room Dinning:
Well sometimes, enjoying food in the privacy of our cozy room or a Monarch like feel of dinning in the private balcony is what I would love. In the Hotal, around the clock service is available.
Framed by traditional wood architecture, awe-inspiring views of the snow-capped Karakoram Mountain Range and lush organic orchards and gardens, Gilgit Serena Hotel is the most unique and beautiful hotel in the Gilgit Valley.
Merging the finest of local culture and heritage with personalised service, hotel offers exclusive and immersive experiences designed to make your holiday an unforgettable experience. Whether you wish to visit one of Gilgit's three hanging bridges, picnic by the Jutial Stream or ski the slopes of Naltar, the staff will help you experience all the wonders Gilgit-Baltistan has to offer.
During my visit I learned about "Karighar" a CSR project of Serena Hotels', a vocational center that was established back in the year 2016, has been making a significant contribution to provide entrepreneurship training to various segments of communities mainly women in Gilgit-Baltistan region of Pakistan, for a sustainable growth and quality of life.
On my visit I found Karighar an economic lift-up, empowering the community in this remote region to supplement the household income by providing them with education and training related to the bee-farming, besides stitching and embroidery.
This is not just a hotel but a value chain, however after visiting Gilgit Serena Hotel, where hospitality is culture and tradition, I understood why it has been said.