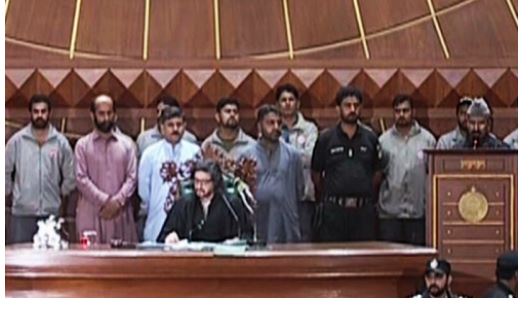 Lawmakers in the Punjab Assembly (PA) have begun voting for the highly-anticipated election of the next chief minister of the province after a three-hour delay.
The crucial session is being presided by Deputy Speaker Dost Muhammad Mazari. It started with recitation of the Holy Quran and its translation.
Taking the dias, Mazari said that on April 16, elections for the chief minister of Punjab was held for the first time during which PML-N leader Chaudhry Pervaiz Elahi had not received any vote.
"While 197 votes were cast for Hamza Shehbaz. But after the Supreme Court's order on Article-63A, 25 votes were removed."
Now, he went on, Hamza had 172 votes, highlighting that none of the members could clinch 186 votes — required to become the leader of the house.
"Hence another round of voting under Article 130 (4) of the Constitution and rules and procedures of the assembly is being held.
"Voting process will be the same as before. I will ask the secretary to announce the voting procedure," the deputy speaker said.
After the procedure was announced, Mazari asked MPAs supporting Elahi and Hamza to gather on opposite sides.
At the outset of the session, PML-N's Raja Sagheer, who had won Rawalpindi's PP-7 seat during the recently-held Punjab by-elections, was administered his oath.
Separately, a PML-N MPA raised a point of order. He claimed that PTI MPA Zain Qureshi was both a provincial assembly and National Assembly member and couldn't cast his vote.
Here, the deputy speaker ruled that under Article 223(4) of the Constitution, a member ceased to be an MNA after he became an MPA. Subsequently, Mazari allowed Qureshi to cast his vote.
Meanwhile, the ruling party also raised an objection against the vote of PTI MPA Shabbir Gujjar, saying that he had a case pending in the Election Commission of Pakistan (ECP).
PTI's Raja Basharat came to Gujjar's rescue and revealed that the ECP had granted the later permission to vote. Subsequently, Mazari turned down the objection.
PTI claims Mazari refused to chair session
Earlier, PTI leader Shafqat Mahmood claimed that Deputy Speaker Dost Muhammad Mazari had "refused to chair" the Punjab Assembly session.
"PTI and Q League have a clear majority otherwise the session would have started," he tweeted, demanding that incumbent CM Hamza Shehbaz should quit.