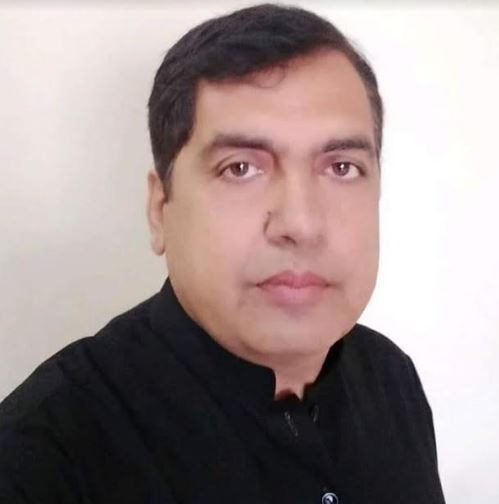 Pakistani forest officers can bring green revolution in Middle East with professional skills, better strategy and hard work
Mumtaz Ahmed Bhatti
Islamabad: Globally acknowledged capabilities of forest officers is a great honor for Pakistan. Pakistani forest officers can bring green revolution in Middle East with professional skills, better strategy and hard work. Despite insufficient staff, vehicles and shortage of funds, the forest officers achieved all the targets. Now it is right to say that the forest officers of Punjab, KP, Sindh, Balochistan, AJK and GB despite insufficient resources are performing better than the forest departments of developed countries.
When the Billion Trees Tsunami Project was launched in KP, such a big project had never been started in Pakistan before and no one had any experience of such a big forest project. KP Forest Department started BTTP as a challenge and it was completed on time. When the Ten Billion Trees Tsunami Project ( TBTTP )was launched, it was a huge challenge for the Forest Departments of Punjab, Sindh, KP, AJK and GB. Despite insufficient staff, vehicles, drone cameras, laptops, low wages for skilled labor and Nigehbaans, flat rates for nurseries land, and shortage of funds, the forest officers achieved all the targets.
At present, the excellent performance of forest officers of Punjab, KP, Sindh, Balochistan, AJK and GB is being appreciated all over the world. The world has recognized that Pakistani foresters can play an ideal role in controlling the serious situation of climate change. At this time, the whole world is on the target of climate change disasters. Many countries in the Middle East already had very high temperatures and now the temperature is increasing. Saudi Arabia, UAE, Qatar, Kuwait, Oman used to have very little rains, but now, unexpected and heavy rains are happening.
In these states, drains were designed for low rainfall, but now due to heavy rains, floods have started, causing huge loss of life and property. In the past, these states also did not focus on solid planning regarding forests. Most of the area of these states consists of land where plantation cannot be successful. The temperature and soil behavior of Saudi Arabia, UAE, Qatar, Kuwait and Oman are similar to many areas of Pakistan and AJK .Like Quetta, Khuzdar, Pashin, Nasirabad, Chaman, Nushki, Qila Saifullah, Zhob, Sibi, Jacobabad, Sukkur, Nawabshah, Larkana, Tharparkar, DI Khan, Bannu, Kohat, Karak, DG Khan, Bahawalpur, Multan, Rahim Yar Khan, Bhambhar and Mirpur. In all the four provinces and AJK, the forest officer has succeeded in planting in all those areas where it was not possible to succeed in plantation due to temperature and soil behavior. Some forest officers went to Saudi Arabia to perform Hajj or Umrah, and were also busy thinking about the green revolution in Saudi Arabia. Several forest officers did deep research in this regard. Pakistani Forest Officers in Saudi Arabia, UAE, Qatar, Kuwait and Oman can best bring about green revolution because Pakistani Forest Officers are working in similar temperature, environment and soil as Middle East states . Pakistani Forest Officers have experience of working on big forestry projects too. There are many forest officers in the forest department of Punjab, KP Sindh, Balochistan, Azad Jammu and Kashmir and GB who want to bring green revolution in all friendly countries and especially in Saudi Arabia so that in future these states will not suffer from climate change. Among the forest officers working in TBTTP, there are officers who have extensive experience in forest departments and some are serving in TBTTP after higher education from foreign countries. If we media persons criticize the forest officers for mistakes and negligence, then it is our duty to appreciate the best performing forest officers. Some senior and highly qualified and experienced and best performing forest officers must be mentioned. In Punjab Shahid Rasheed Awan has worked in various senior positions in Forest Department of Punjab including PD TBTTP now he is Chief Conservator Forest Central Zone Lahore, Muhammad Javed Gill has worked as PD TBTTP now Chief Conservator South Zone Multan, Gauhar Mushtaq Conservator Forest Bahawalpur Circle, Muhammad Nawaz Sindhila is Conservator Lahore Circle, he has also worked as Conservator Gujranwala, Saeed Tabssum is the project director of TBTTP Punjab, he has also been performing his duties as a conservator, Muhammad Azeem Bhangoo is the conservator of Gujranwala, he has also been the conservator of Sargodha and DG Khan, DFO Asim Shah, DFO Azhar Abbas, DFO Agha Hussain, DFO Junaid Mumtaz. In KP Muhmmad Tehmasip khan has been the Project Director Khyber Pakhtunkhwa in Billion Trees Tsunami Project and Ten Billion Trees Tsunami Project, now he is Chief Conservator Hazara Region, Conservator Malakund Shaukat Fayaz, Kifaiat Baloch Conservator watershed Abbottabad, DFO Sardar Farhaad, DFO Abrar Hussain, DFO Mohammad Amjad DFO Mudasir . In AJK Syed Gul Hasan Shah Chief Conservator Development, Sardar Naseer  (R) Chief Conservator Principal, Rafiq Khan Conservator Rawalkot, Conservator Muhammad Sulaiman, DFO Sardar Farooq Khan, DFO Malik Ashraf Parwana, DFO Raja Imran Shafi, DFO Latif Khan, DFO Khalid Mehmood Khan, DFO Muhammad Irshad, DFO Shehbaz Khan. In Sindh Shahzad DDP TBTTP Sindh, Tahir Latif DFO Karachi, Hosh Muhmmad Shar DFO Sukkur, Syed Asif Shah DFO Sukkur. In Balochistan PD TBTTP Syed Imran Shah , Conservator Farooq Kakar, DFO Maqbool, DFO Khalil Sabi and DFO Samudran Khan. All these forest officers, their teams and the skilled labor working with them have achieved all the plantation targets of the Ten Billion Treasunami Project and are determined to achieve all the targets in the future.these forest officers can perform best in forest projects in Middle East including the European countries.