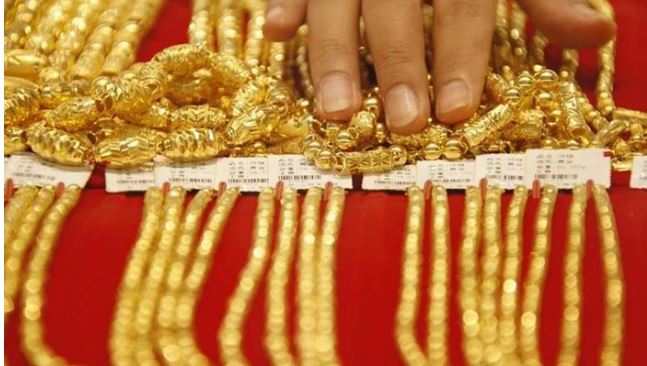 KARACHI: Gold prices inched up on Friday, still hovering near a one-month low hit in the previous session when a rebound in the rupee pushed bullion to its steep one-day fall.
Data released by All Pakistan Sarafa Gems and Jewellers Association (APSGJA) showed that the gold price gained Rs150 per tola and Rs129 per 10 grams to settle at Rs145,050 per tola and Rs124,357 per 10 grams, respectively.
Gold prices were stuck in a tight range as investors braced for the State Bank of Pakistan's monetary policy decision, which could influence the market direction.
While gold is considered a hedge against inflation, higher interest rates reduce the non-yielding bullion's appeal and boost the currency.
In the international market, the price of the yellow metal declined by $3; however, it managed to stay firm above the key $1,700 per ounce level. The price settled at $1,709.
Gold rates in Pakistan are around Rs3,000 below the cost compared to the rate in the Dubai market.
Meanwhile, silver prices in the domestic market plunged by Rs40 per tola and Rs34.28 per 10 grams to settle at Rs1,580 and Rs1,354.60 per 10 grams.