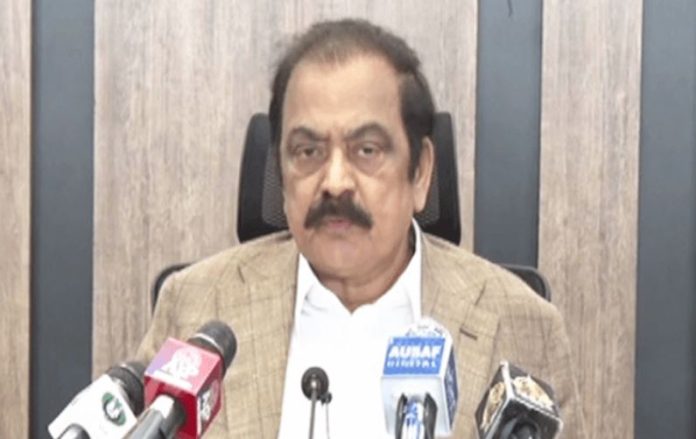 ISLAMABAD: Interior Minister Rana Sanaullah on Sunday said the government was holding legal consultations on whether to file a separate case against PTI Chairman Imran Khan for his "provocative speech" a day ago or nominate him in a previous case.
In a press conference in Islamabad, the minister called out Imran for allegedly threatening institutions and preventing officers from performing their lawful duties.
---
Key developments so far
-Interior minister says case against Imran under consideration for yesterday's speech
Says torture claims against Gill seek to divert attention from his 'anti-state remarks'
Imran had warned that cases would be filed against judge and police officers
Islamabad Police says anyone passing'threats' will face legal action
Marriyum says 'foreign agent' Imran wants 'civil war'
Mazari says ICT has withdrawn security from Imran and his residence
Fawad questions govt's 'fear' of investigating torture claims
---
"This is all happening in continuation — from a campaign after Lasbela incident when six army officers were martyred followed by Gill's attempt to incite army ranks to go against their top command and then Imran threatening a woman judge and police officials for performing their duties as per the law," the minister explained.
Imran claimed had in a rally a day ago that the Islamabad police was taking orders for action against his party leaders from "someone".
"When I asked the police to tell me what did you do to Shahbaz Gill, they said 'we did nothing, we got a boot from behind to follow orders'," he told the rally participants on Saturday while announcing plans to move the Supreme Court against the alleged torture of Gill.
Imran also warned the judiciary against its "biased" attitude towards his party, saying that it should brace itself for the consequences.
The former premier had also taken exception to Additional District and Sessions Judge Zeba Chaudhry, who had approved Gill's two-day physical remand at the request of the capital police, and said she should "prepare herself as action would be taken against her".
In his presser today, Sanaullah said his ministry had prepared a report and it was conferring with the Islamabad advocate general and the law ministry, adding it would take a couple of days to reach a final decision.