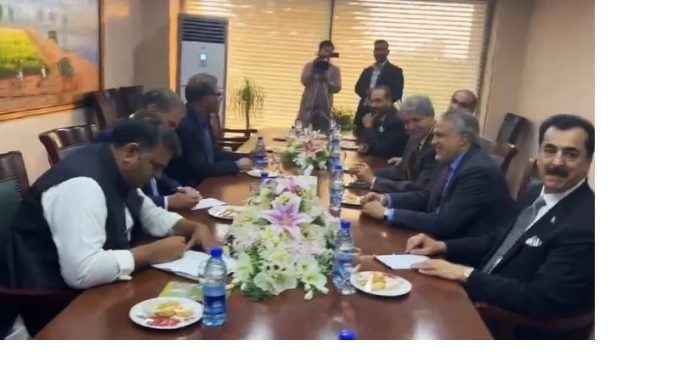 ISLAMABAD: The Pakistan Democratic Movement (PDM)-led government and the Pakistan Tehreek-e-Insaf (PTI) Thursday finally sat on the negotiating table to discuss the poll date following Supreme Court's orders.
In the first round of talks — which lasted for around two hours — at the Parliament House's Committee Room Number 3, both sides informed each other about their top leadership's stance, sources told Geo News. The second meeting will be held tomorrow.
The government's delegation comprised Finance Minister Ishaq Dar, Pakistan Peoples Party Senator Yousaf Raza Gilani, Railways Minister Khawaja Saad Rafique, and Commerce Minister Naveed Qamar.
The opposition's delegation included PTI Vice Chairman Shah Mahmood Qureshi, PTI Senior Vice President Fawad Chaudhry, and the party's top legal expert Barrister Ali Zafar.
The delegation informed the government about PTI Chairman Imran Khan's stance on elections and about how the elections should be conducted.
Talking to journalists after the meeting, Gilani said the ruling parties would consult each other and make a decision. "Whatever is decided, it will be based on input from all parties."
Qureshi, while speaking to the media, the consultations ended after two hours and stressed that political parties find solutions to problems through talks.