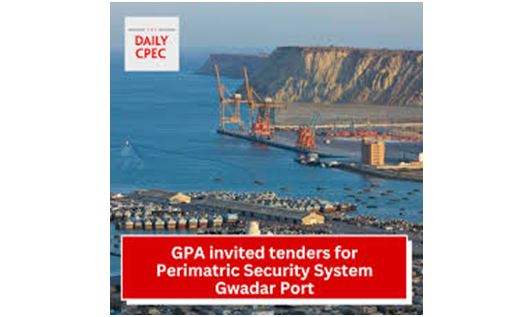 ISLAMABAD, Nov 14 (DNA)-To make the city safe and secure for local and foreign investors, Gwadar Port Authority (GPA), Ministry of Maritime Affairs, is introducing the latest security system at Gwadar Port.
In this regard, according to Gwadar Pro on Monday, the GPA has issued a notice inviting tenders for Perimatric Security System at Gwadar Port.
The Public Procurement Regulatory Authority (PPRA), Pakistan, who is responsible for prescribing regulations and procedures for public procurement, later invited firms and contractors who have sufficient experience in the relevant field, qualified personnel and are financially to join the project, titled "Perimatric Security System Gwadar Port" and released the required prescribed tender document.
The tender documents containing detailed specifications, terms, and conditions may be obtained from the office of the Project Director at GPA Head office Gwadar as well as from GPA Camp Office Karachi.
In the presence of bidders or their representatives, the bidding will be hosted on November 29, 2022, at Gwadar Port Authority Head Office, Pak -China Friendship Avenue, Gwadar.
The method of Procurement will be following the 'Single Stage Two Envelope procedure under Rule 36 (b)' of 'the Public Procurement Rules-2004' while the GPA may reject all bids or proposals as per PPRA Rule No. 33.
'Perimeter security System Gwadar Port' will be a built-in multipurpose system that detects threats, performs surveillance, and analyses attack patterns.
The Federal and Provincial governments of Balochistan are making all-out efforts to ensure the security of investors and tourists in Gwadar city. Under the project, around 675 CCTV cameras will be installed to maximize security measures for Gwadar.