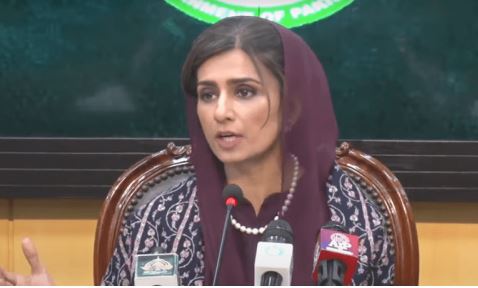 ISLAMABAD, DEC 14 (DNA) — Minister of the State for Foreign Affairs Hina Rabbani Khar has said no country has used terrorism better for its benefit than India.
Addressing a press conference at the Foreign Office in Islamabad on Wednesday, she shared details of a dossier containing "evidence of India's involvement in terrorist activities in Pakistan with the media".
Khar was addressing the news conference a day after Interior Minister Rana Sanaullah said that India's footprints are seen in all terror activities carried out in Pakistan and New Delhi's activities have gone "beyond that of an enemy state" just to hide its atrocities in occupied Jammu and Kashmir.
Hina Rabbani said that India's target is to undermine Pakistan's peace and security through terrorism. "To play on the back of the attention of the world on terrorism and to play the victim, no country has benefitted from it better than India," she lamented.
Khar added that India was portraying itself as a champion of counter-terrorism even though it had not made no contributions in this regard and paid only lip service.
"If you compare Pakistan and India, you will find Pakistan to always be at the forefront of counter-terrorism, of ensuring that we are a player in the world to try and make sure terrorism does not continue to haunt us," she asserted.
"We are at a unique place where perpetrators of terrorism are acting as victims of terrorism". She said no one "is willing to call the bluff and call out the hypocrisy".
She added that the Foreign Secretary Asad Majeed Khan had called the members of diplomatic corps in Islamabad and shared Pakistan's dossier. "This dossier, as you already know, has details — evidence of how India has been found to be fully behind this particular incident which led to the loss of lives," she said.
The minister added that the evidence reflects India's persistent hostility towards Pakistan and the use of terrorist proxies to achieve terrorist objectives. The state minister said that the law enforcement agencies and judicial authorities have brought the front men of the attack to justice.
Khar further revealed that while some of the perpetrators of the attack had been brought to justice, the "masterminds and the facilitators" remained at large and "under Indian state patronage and protection".
"The masterminds and the facilitators remain at large and under Indian state patronage and protection. I assure you that the Government of Pakistan will pursue this relentlessly," said Khar.
The minister said that New Delhi continuously uses terrorist proxies and gives blatant support to Baloch militant organisations too. She added that New Delhi was consistently paralysing United Nations Security Council's sanctions regime by blocking the listing of Indian terrorists aided and financed by the state of India.
"I have four names here which are of Indian nationals whose listing has been blocked by India. Gobinda Patnaik, Parthasarathy, Rajesh Kumar, and Dungara. All four names blocked by India in UNSC listing.," said Khar.
On Tuesday, Interior Minister Rana Sanaullah said that there was "clear evidence" that India was involved in Lahore's Johar Town blast. Addressing a press conference in Islamabad along with Counter Terrorism Department (CTD) Additional IG Punjab Imran Mehmood, Sanaullah announced raising the matter in the United Nations (UN).
He said that Pakistanis had given innumerable sacrifices in the wave of terrorism that has gripped the country over the decades. "This incident took place some time back and we have caught all the culprits related to this. India has to some extent accepted the responsibility for it," he said.
The CTD official, while briefing on the progress in the investigation of Lahore's Johar Town blast, said the prime suspect Sami ul Haq was arrested from Balochistan. "During the investigation, we learned that he was an agent of the Indian spy agency RAW since 2012," he claimed. =DNA