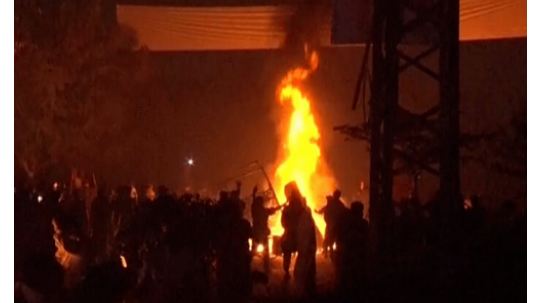 Plea against Imran's arrest warrants in Toshakhana case to be heard tomorrow; PTI chief tells supporters to "come out", says "mentally prepared" for arrest.
Protests broke out in major cities on Tuesday at the call of PTI Chairman Imran Khan as police and party workers continued to clash outside his Zaman Park residence in Lahore.
Intermittent tear gas shelling is ongoing at Zaman Park as police — which was previously camped out at a security barrier outside the neighbourhood — has been forced to retreat towards Mall Road. PTI workers, meanwhile, have laid siege to the path leading to Imran's residence as well as Canal Road.
With police seeking Imran's arrest, Protests broken out in Islamabad, Peshawar, Karachi and Rawalpindi after the PTI chief called on his supporters to "come out" following police's use of tear gas and water cannons on supporters outside Zaman Park.
Key developments:
Imran, PTI calls on supporters to "come out" in solidarity, says "mentally prepared" for arrest
Protests against arrest begin in Karachi, Peshawar, Islamabad and Pindi
Islamabad DIG injured; tear gas shells fall inside Zaman Park as police and PTI supporters face off
Islamabad police says 5 officials injured as stones pelted from roof of Imran's home
Rangers deployed outside Zaman Park as helicopter circles above
President Alvi says he is "deeply saddened" by today's events
IHC fixes PTI's plea against arrest warrants for tomorrow
Maryam Nawaz says Imran to be held responsible if any police officer or personnel is injured
Protests in major cities
In Karachi, PTI workers protested at 4K Chowrangi, 5 Star Chowrangi, Banaras Chowk, Al-Asif Square, Shaheen Chowk, Mirza Adam Khan Chowk, and Murghi Khana.
Videos shared by the PTI's Karachi chapter also showed workers gathered at Qayyumabad Chowrangi, II Chundrigar, Hassan Square and Sohrab Goth.
The PTI claimed that Sindh police fired tear gas shells at its workers and supporters at Hassan Square to disperse the crowd.
Footage shared by the party showed party workers running away amid the sound of gunfire.
In Peshawar, a large number of PTI supporters demonstrated outside the press club. Workers also blocked Sher shah Suri road and marched towards the Governor House.
Islamabad police said that PTI protesters had blocked Tarnol Road but timely action had been taken to reopen it for traffic. "A case has been registered in Tarnol Police Station against the PTI workers who blocked the road on the orders of Imran Khan," police said.
In Rawalpindi, protesters marched to Committee Chowk and also gathered at Liaqat Bagh but were later dispersed by police officials.
A spokesperson for Rawalpindi police said workers at Liaqat Bagh pelted stones at officials after which police baton-charged them.
Imran tells supporters to 'come out', says 'mentally prepared' for arrest
In a video message on Twitter, Imran said police had arrived at Zaman Park to arrest him. "They think that after I am arrested, the nation will fall asleep. You have to prove them wrong," he said.
The PTI chairman said everyone should come out of their homes for their rights and "haqeeqi azaadi" (true freedom).
"If something happens to me and I am sent to jail or if I am killed, you have to prove that you will struggle without Imran Khan and not accept the slavery of these thieves and of the one person who has been making decisions for the country," said the former premier, who has continued his confrontational rhetoric against the establishment since his ouster in April last year.
In an interview to Al Jazeera later in the evening, Imran said that he was "mentally prepared" for his arrest. "There is a huge [police] force outside — not just the police but they've got the Rangers there too which is the army. It seems as if Pakistan's biggest terrorist is holed up inside," he added.
He alleged that the government wanted him out of the election race since it was "petrified" of his party's popularity. "According to all opinion polls, we will sweep the upcoming polls and that is why they want me removed from the scene."
PTI's Fawad Chaudhry also asked PTI supporters to gather in the streets in a show of solidarity with Imran.
He said the chief justice should take suo motu notice of the entire situation and "stop the police operation".
Interior Minister Rana Sanaullah, however, said that officials would arrest Imran in accordance with the court's directives and produce him in court.
President Dr Arif Alvi said he was "deeply saddened" by today's events. "Unhealthy revenge politics. Poor priorities of [a] government of a country that should focus on economic misery of the people," he said.
" Are we destroying political landscape? Am concerned about safety and dignity of @ImranKhanPTI like that of all politicians," he said.
Police, PTI workers clash
Shortly after 2pm, armoured police vehicles had arrived outside Zaman Park with the intention of arresting Imran but a senior Islamabad police official, Deputy Inspector General (DIG) (Operations) Shahzad Bukhari, had refrained from commenting on the case in which officials were acting against the PTI chairman.
While police did not comment an Islamabad district and sessions court on Monday had again issued arrest warrants for Imran after he persistently skipped hearings in the Toshakhana case. The court had also directed police to present the ex-premier in court by March 18.
Almost an hour after police arrived outside Zaman Park, police used a water cannon and tear gas against PTI supporters that had gathered outside Zaman Park in droves.