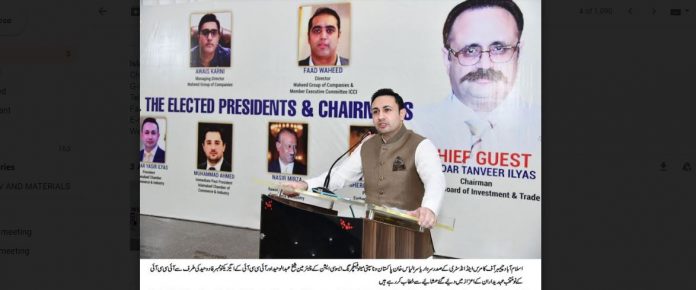 DNA
ISLAMABAD, OCT 10 – Sardar Yasir Ilyas Khan, President, Islamabad Chamber of Commerce & Industry said that the Covid-19 pandemic has caused drastic decline in the business activities across the country and it was high time that the government should focus on formulating more conducive policies besides taking supportive measures for the private sector to enable businesses to revive and boost business activities in the country.
He emphasized that the State Bank of Pakistan should work with commercial banks to provide loans on low interest rates to the private sector for revival and expansion of business ventures. He was addressing a dinner reception hosted by Sheikh Abdul Waheed, Chairman, Pakistan Vanaspati Manufacturers Association (PVMA) and Faad Waheed, Executive Member ICCI in honor of new Office Bearers of Islamabad Chamber of Commerce and Industry.
Sardar Yasir Ilyas Khan said promoting ease of doing business should be the top priority of the government so that the economy could come out of the difficulties created by the Covid-19 pandemic. However, instead of taking facilitative measures for businesses, FBR was issuing regulatory orders like SRO-924 and SRO-931/2020 that would create additional problems for businesses of Construction and automobile sectors. He stressed that FBR should take stakeholders fully on board before issuing any new SRO that would save the economy from unnecessary problems.
Speaking at the occasion, Sardar Tanveer Ilyas Khan, Chairman, Punjab Board of Investment and Trade highlighted the potential areas of investment in the Punjab Province and said that the business community should capitalize on them for future business promotion and growth. He stressed the need of close cooperation and regular interaction between policymakers and business leaders to make new policies that should put the economy on the path of sustainable growth.
Mian Akram Farid Chairman Founder, Ms. Fatma Azim Senior Vice President, Abdul Rehman Khan Vice President ICCI, former Presidents FPCCI Abdul Rauf Alam, Zubair Ahmed Malik, Ghazanfar Bilour, former Presidents ICCI Khalid Javed, Tariq Sadiq, Zafar Bakhtawri, Mian Shaukat Masud, Ejaz Abbasi, Atif Ikram Sheikh, Zahid Maqbool, Sheikh Amir Waheed, Baser Daud, Ahmed Mughal, Muhammad Ahmed Waheed, as well as Ch. Waheed ud Din, Nasir Qureshi, President Haripur CCI Shehbaz Sheikh, President RCCI Nasir Mirza, Sohail Altaf, Khalid Tawab, Samina Fazal, Rafat Farid, Ahsan Bakhtasari, Ajmal Baloch, Khalid Chaudhry, Malik Sohail Hussain, Tahir Mehmood, Executive Members ICCI, Presidents of Market Associations and a large number of business community attended the dinner reception.