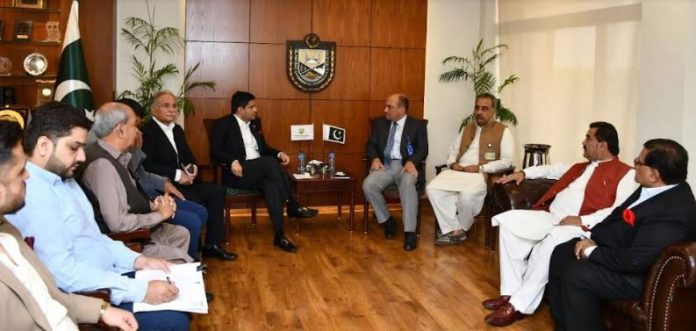 Islamabad, OCT 29 /DNA/ – Ahsan Zafar Bakhtawari, President, Islamabad Chamber of Commerce & Industry said that the SNGPL has issued notices to commercial consumers in Islamabad for suspension of their natural gas connection from 1st November 2022 creating great concerns in the business community and urged that the decision should withdraw its decision to save businesses from further losses. He said that the business activities of hotel and restaurants had suffered badly during Covid-19 pandemic and now they were on the recovery path. However, the suspension of natural gas to these businesses for 3 months in winter will cause them big losses. He said this while talking to Khurram Ayub Khan, General Manager Distribution, Sui Northern Gas Pipeline Limited North during his visit to ICCI along with Malik Nawaz Deputy Chief Business Development and Rana Mudassar Admin Officer.
Ahsan Bakhtawari said that already the business community is badly suffering due to high electricity tariff and shifting commercial consumers forcefully to LNG would further increase the cost of doing business. He urged that the government should reconsider its decision and delay the suspension of natural gas to commercial consumers for one month and try to find an amicable solution of this issue in consultation with stakeholders. He said that soon a delegation of ICCI led by Hanif Abbasi will meet with State Minister for Petroleum Musadak Malik to inform him about the concerns of commercial consumers. He said that despite the payment of an urgent fee, the gas connections are not being provided to commercial and domestic consumers and urged that the government should lift the ban on new gas connections to facilitate people.
addressing the business community, Khurram Ayub Khan, GM, SNGPL North said that the government has issued instructions to suspend the supply of natural gas to commercial consumers for 3 months in winter due to its shortage and said that the commercial users should sign a new agreement with SNGPL for switching over to the LNG, which is a better option for them though it would incur them 3 times more cost. He said that the indigenous gas reserves are declining due to which the government has to import around 1200 million cubic feet of LNG per day to meet the shortage. He said that natural gas of around 400 million cubic feet has been discovered in North Waziristan, but its supply to consumers will take time. He said that the government is providing subsidies on LNG to domestic consumers, but no subsidy is being provided to commercial consumers. He assured that he would convey the concerns of ICCI members to the relevant authorities for consideration.
Habibullah Zahid, President, Islamabad Restaurants Association said that their sector was providing employment to over 10 million people across the country and suspension of natural gas to them in Punjab and Federal Area would cause closures of many hotels & restaurants rendering millions of people jobless. He said that shifting to LNG would increase cost of doing business that would badly affect the business activities and stressed that the government should give some breathing space to this sector for arranging substitutes.
Azhar ul Islam Zafar Vice President ICCI, Zafar Bakhtawari, Muhammad Ejaz Abbasi, Mian Shaukat Masud, Khurram Khan, Khalid Chaudhry and others were also present at the occasion.