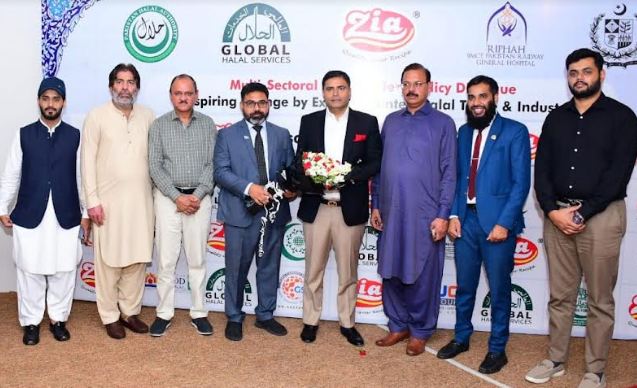 Islamabad, JUL 20: /DNA/ – Ahsan Zafar Bakhtawari, President, Islamabad Chamber of Commerce & Industry said that Pakistan has huge potential to enhance exports of halal products and stressed that the government should cooperate with the private sector in capitalizing on this untapped potential to boost exports and strengthen the economy. He said that the size of the global halal market is around USD$ trillion, but Pakistan's share in it is negligible. He emphasized that the government should formulate conducive policies for halal industry to take exports of this sector up to USD 5-6 billion in a few years. He said this while addressing a multi-sectoral stakeholders policy dialogue on "Inspiring Change by Export Oriented Halal Trade & Industry" organized by Global Halal Services (Pvt.) Limited.
Ahsan Bakhtawari said that the strict compliance of halal standards, quality certifications and government's support can help to make significant increase in the export of halal products. He said that the Halal meat is one of the fastest-growing markets globally, contributing 16 percent to world trade and Pakistan being a Muslim country should take full advantage of it. He stressed that China, Turkey, Malaysia, Indonesia and Central Asian States should be targeted instead of relying on only Arab countries for halal meat exports. He urged that the government should mobilise all institutions working for promotion of halal food exports to realize the full export potential of this industry. He emphasized that the government should designate special Halal meat zones and provide them a 10 years tax holiday to attract new investment in this sector.
ICCI President said that Pakistan has the potential to play a significant role in the global halal meat industry and become a market leader since it has all the required ingredients. He said that there is a massive economic potential for Pakistan to capitalize on its status as a Muslim country and build greater credibility to market its halal products around the globe. He said that besides beef, Pakistan should also tap avenues in seafood, ostrich, mutton and poultry farming to enhance its export turnover. It will not only diversify our economic outreach but also add to the country's overall food security.
Faad Waheed Senior Vice President ICCI and other speakers also highlighted the export potential of halal industry and stressed that the government should cooperate with the private sector to boost exports of this sector.